Romance Writers Weekly ~ What's Your Cookie

.
Oh, we have a yummy one this week.
Brenda Margriet said, "I'm not much of a baker, except for at Christmas. Share your favorite holiday treat recipe!"
.
I love to cook, but like Branda, I'm not a great baker. I do love to make cookies and when I find a recipe I love, I stick with it. This one is fabulous!
.
Big Ginger Cookies!
Ingredients:
3/4 cups butter, softened
1 cup sugar
1 egg
1/4 cup molasses
2-1/4 cups all-purpose flour
2 teaspoons ground ginger
1 teaspoon baking soda
3/4 teaspoon ground cinnamon
1/2 teaspoon ground cloves
1/4 teaspoon salt
Extra sugar for rolling.
.
Directions: Preheat the oven to 350 F. In a large bowl, cream the butter and sugar until light and fluffy. Beat in the egg and molasses. In another bowl, combine the flour, ginger, baking soda, cinnamon, cloves and salt; gradually add the dry mixture to the creamed mixture and mix well.
.
Roll the dough into 1-1/2 inch balls then roll in extra sugar. Place 2 inches apart on an ungreased baking sheet. Bake for 10 – 12 minutes until puffy and lightly browned. Put on a wire wrack to cool. This recipe makes about 2-1/2 dozen cookies.
.
Enjoy! NomNomNom…..
---
---
.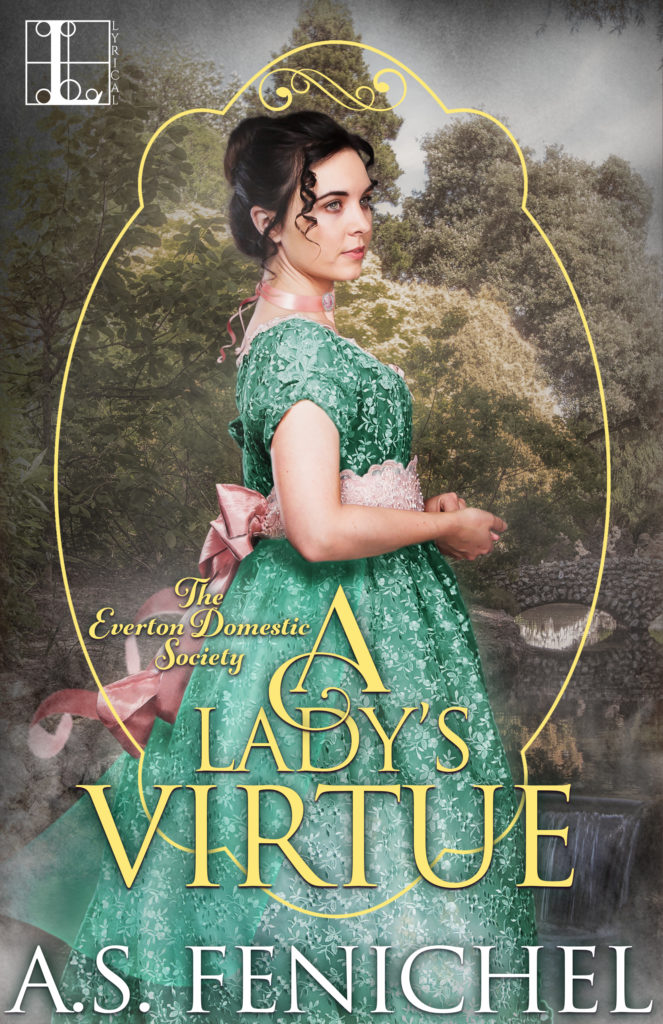 Have you seen the brand new cover for A Lady"s Virtue? This is book 3 in the Everton Domestic Society. I think you're going to love it and you can preorder it right now.
.
Can a broken engagement ignite the spark of true love?
.
Sylvia Dowder had almost made it to the altar when her fiancé unexpectedly became a viscount, and dropped her like a stale crumpet to make a more "suitable" match. Though Sylvia's heart has been crushed, her spirit has not. She puts her wits and social savvy to use as a secret gossip columnist—and as the Everton Domestic Society's party planner to the ton. Luckily, she's not in danger of ever falling for an aristocrat again…Especially not one like Anthony Braighton, Earl of Grafton.
.
Raised in America, Anthony sees no reason to marry when he can enjoy all the perks of being an eligible earl. Determined to convince his family he doesn't need a wife, he hires Sylvia to act as hostess and decorator for upcoming parties. Yet Sylvia is as adept at captivating his interest as she is at beautifying his home. And despite this Everton lady's aversion to titled men, some attractions can't be denied—and love rarely does go where it's told . . .
---