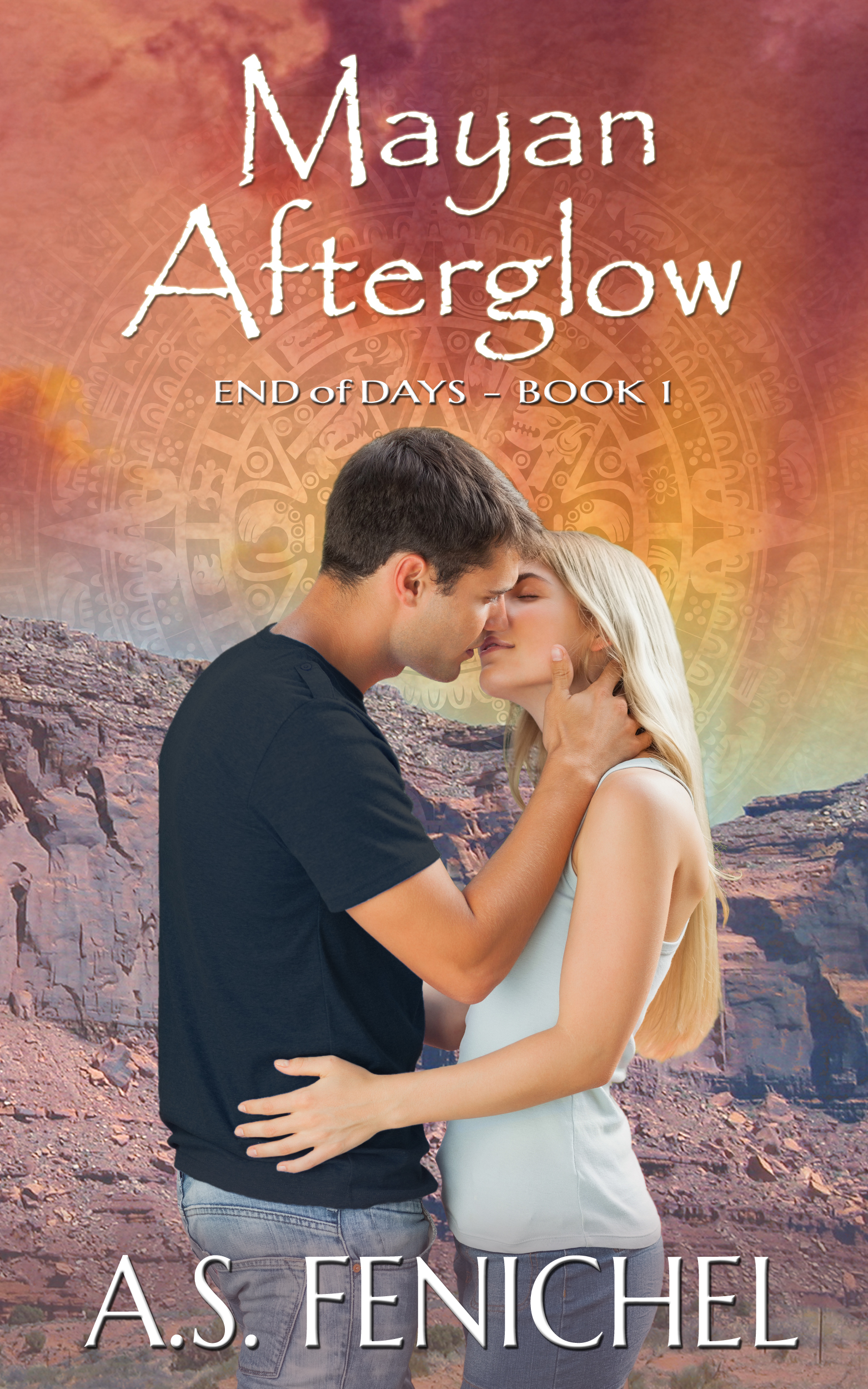 They called it The End of Days after humanity met with near annihilation. Ten months later, the real end is coming.
Aileen Grant's powerful psychic gifts have been nothing but a curse since the day she was born. She'd given up all hope of escaping the demonic grasp of Mictlan, The Lord of the Dead, until an enigmatic thief snatches her out of Hell. With something to live for, she convinces Ian to join her on a treacherous journey to save the world.
Ian Scott is stealing from long-deserted homes when he pulls Aileen's unconscious body from a strange bolt of lightning. Aileen is the last thing that Ian wants or needs, but her quiet beauty and courageous heart bind him to her in ways he never imagined, and ignite passions he's never known.
Buy now from:
Add to Goodreads
Paranormal Erotic Romance ◊ The End of Day Series
September 28, 2015 (re-release) ◊ A.S. Fenichel
Novella ◊ ISBN: 9781516356256 ◊ Available in Ebook

Excerpt:
"Me? I'm not going to Mexico."
"Oh. I see." She walked toward the entrance and wrapped her arms around her slim torso.
His gut twisted. Who did she think she was? "Don't 'I see' me. I don't owe you a trip to Mexico. I don't owe you anything."
"No, you don't." She shivered.
He paced the cavern, stomping as he went. "I saved you. Isn't that enough?"
"Yes, of course it is, but don't you wonder why you were even there to save me, Ian?"
The sound of his name on her lips caused the muscles in his chest to clench. He turned toward the back of the cave and looked at anything but her. "It was just a coincidence."
"Do you know that the bolt should have killed you?" That got his attention. "That's right. No one should be able to survive thrusting their hand through a jump bolt. You should have been killed. Still, I wonder why you would even do such a thing. You're a criminal not a hero, right?"
Behind her, a storm was gathering.Snow would come soon.He had to get out of these mountains and get her as far away from him as possible. He couldn't take his eyes off her. She was dangerous.
Her hands were on her slim hips. Her breath raced and her chest rose and fell. The tunic clung to all her curves.
He couldn't help it. The woman's anger just made her more magnificent.
Even though he was fuming, his groin responded, painfully pressing against his button-fly jeans. "That's right. I'm a criminal. Why would you even want to travel with me?" He turned away again but not before she glanced down and saw his condition. He didn't look back. He could hear her moving toward him. "I don't know why I did it. I already told you." He sounded like a pouting child.
She touched his back.
He spun around and grabbed her roughly, pressing her hard against his arousal.
She stared up at him with warmth. "Is that what it would take, Ian?"
"Maybe." His mouth came down hard on hers.
She didn't fight him, just allowed him to plunder her mouth.
His fingers gripped her upper arms so hard she would have bruises. He continued to kiss her brutally.
She opened her mouth for him, but she didn't join the kiss.
After a moment he softened his grip and the kiss. He nipped at the corner of her mouth. "I'm sorry." He kissed her cheek and then her eyelids one after another. "I'm sorry." His hands fell away.
She smiled. "I have to admit I liked that last part quite a bit more than the first." She touched his cheek.
He took her hand and kissed the palm. "I'm sorry."
"It's all right. You're not the first man to take what he wants from me, but you may be the kindest and most remorseful."
"I don't want to hurt you, Aileen." What an ass he was. Damn. He dropped her hand and turned away. "I'll take you down the mountain and find transportation for you to get yourself to Mexico or wherever it is you want to go."
"Thank you, Ian."
Never glancing back at her, he yanked a parka over his leather jacket and rushed out into the mountain air.
---