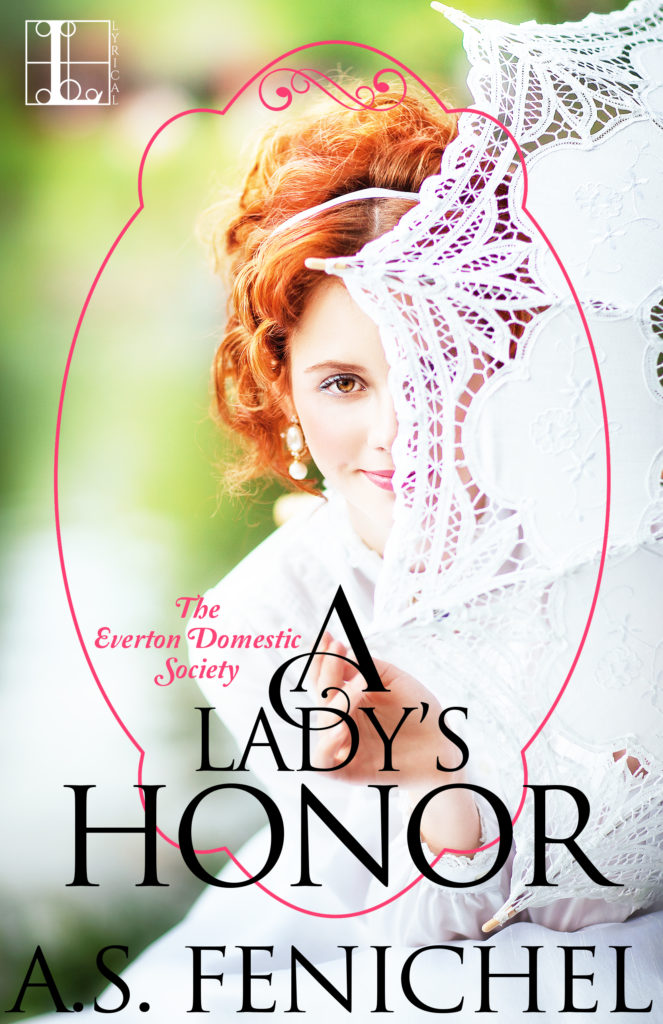 Not every match is made at the marriage mart…
After a disastrous, short-lived engagement and years of caring for her ailing grandmother, Phoebe Hallsmith is resigned to spinsterhood. But if she must be unmarried, far better to be of use than languishing at home, disappointing her parents. As an employee of the Everton Domestic Society of London, Phoebe accepts a position at the country home of an old friend and discovers an estate—and a lord of the manor—in a state of complete chaos.
Losing himself in the bottle has done nothing to ease Markus Flammel's grief over losing his wife. Not even his toddler daughter can bring him back from the brink. Now this fiery, strong-minded redhead has taken over his home, firing and hiring servants at will and arousing unexpected desire. As not one, but two, suitors suddenly vie for Phoebe's hand, can Markus move past loss and fight for a future with the woman who has transformed his world?
A Lyrical Originals novel!
Buy now from:
Historical Romance ◊ Everton Domestic Society Series
April 3, 2018 ◊ Kensington Publishing/Lyrical Press
Full-length Novel ◊ Available in Ebook & Paperback

A Lady's Honor
The Everton Domestic Society
A.S. Fenichel
LYRICAL PRESS Kensington Publishing Corp.
Prologue
Phoebe breathed in the warm, cherry pipe tobacco that scented the Everton Domestic Society's offices. Lord Rupert Everton only smoked in his private lounge, but the homey smell wafted through the building. From the moment she'd set foot in the aging townhouse, she'd been more at home than in any of her family's estates. Fresh flowers filled the vases on the entry table and at the bottom of the handrail.
Tired from a long assignment, she took care to silence her practical shoes on the scarred wooden floors. A Persian carpet ran the length of the steps. If she could get there unheard, she would be sure to make it to the solitude of her private room above-stairs. Waking dreams of flopping down on her own bed had kept her awake these last few weeks. Not that she ever slept well, but lately it had grown worse.
Dark wood adorned the walls with little to mask any sound. The door to her right opened and Phoebe gasped. Lady Jane's voice drifted out. "You have nothing to worry about, Lady Castlereagh. I will send someone to Rosefield in a few days."
"I have no doubt," replied Margaret Flammel, in a stern voice. The Countess of Castlereagh stepped into the front hall. Petite but formidable, she patted her dark blond hair into place and turned toward the front door. She locked gazes with Phoebe and stopped.
With an inward sigh, Phoebe dropped into a curtsy. "How do you do, Countess?"
"Lady Phoebe Hallsmith? I had heard you had embarrassed your mother and gone into service. I did not realize it was here at Everton's. Not quite as bad as becoming some nanny, but not exactly what your family would have expected from you. I heard that brother of yours disowned you." Her green eyes flashed with accusation.
For a year, she had managed to avoid people who would say directly what all of the ton was thinking. It was a miracle she had managed it so long. Phoebe forced a smile. "I go by Miss Hallsmith now. It is nice to see you, my lady. I hope your daughter, Dorothea, is well."
"Married, as I'm sure you know. Not well married, but happily, for whatever that is worth." Lady Castlereagh pulled a handkerchief out of her waistband and dabbed her cheek.
"I imagine it is worth quite a lot to Dorothea."
Lady Jane Everton cleared her throat and stepped next to Lady Castlereagh. Jane towered over the countess. Her dark hair pulled back in a severe bun, she always brought calm to every situation. Her gray skirt and light blue blouse were pressed to perfection and gave her a severe, staid appearance. "Miss Hallsmith has just returned from her second assignment this year. Both were very successful. You may have heard, she assisted with the Mayfield girl for her debut season."
With a nod, Lady Castlereagh said, "Velvet Mayfield is a shy wallflower. I imagine you had your work cut out for you, Miss Hallsmith."
The typical labeling done by society stoked Phoebe's ire. Velvet was a wallflower. Phoebe was a spinster. Where would it end? It wouldn't. People like the countess would always pin labels on people of whom they disapproved. "You will be happy to hear that Miss Mayfield is soon to be Mrs. Harrington Wormfield."
Though Lady Castlereagh's shocked expression only lasted a moment, it was more gratifying than Phoebe could have imagined.
Lady Castlreagh said, "You must be very good at your job if you got that one married off."
She restrained the joy bubbling inside her over Velvet's impending marriage. There was no response that would be kind to Velvet. Phoebe turned to Lady Jane. "I am happy to be back, my lady. I will be ready for my next assignment in a day or two."
Looking her up and down, Lady Castlereagh circled Phoebe like a cat about to devour a mouse. "Lady Jane, I think Miss Hallsmith might do very nicely for my contract with Everton's. She has breeding, even if she has wasted it. I have always known her to be a resourceful girl, even though her temper is legendary. She knows my son and was friends with his deceased wife. She would not need to be educated about the situation. She grew up near Rosefield and probably has heard all the rumors already. It would keep the situation close rather than exposing our family to a stranger."
All of England knew the rumors. There was little need to be coy. Markus Flammel had taken to the bottle after his beloved wife, Emma, died in childbirth. It was two years since her death. Phoebe had hoped Markus would come to his senses, but if his mother was seeking help from the Everton Domestic Society, things must be quite bad.
Lady Jane frowned. "We do not usually let our ladies assist friends as it can be a conflict of interest, Countess."
"I hope I will not have to insist." Lady Castlereagh lifted her chin, tucked her handkerchief back in her waistband and stepped toward the door. "I expect to hear from you in the next day or two with details of Miss Hallsmith's arrival at Rosefield."
The butler, Gray, opened the front door, his wisps of white hair catching the breeze. Once the door closed behind Lady Castlereagh, Gray bowed to Lady Jane and left the front hall.
Jane shook her head. "Are you up to a chat about this assignment, Miss Hallsmith, or do you need a rest?"
Phoebe said, "It is probably best for us to speak first. I will never rest with this on my mind."
Gesturing toward the office doorway, Jane invited Phoebe inside. The place of business was softer than the entry hall. A muted blue rug and matching drapery warmed the cold wood. Cream and sky-blue upholstery made the overstuffed furniture comfortable. Every table held a vase with fresh-cut flowers. The scent mingled with masculine cherry tobacco. Sunlight streamed through the tall windows and the wind sang against the side of the house. Once they were seated, Jane folded her hands atop of the desk and sighed. "What do you know about Markus Flammel?"
Her heart hurt thinking about him. She crossed her ankles and put her hands in her lap where she looked down at them. "Quite a lot. The countess is right about that. I was good friends with his wife, Emma. She was a wonderful girl and they were very much in love. I was still in Scotland when Emma died. She had written to me every week up until then telling me how happy they were about the coming birth of their first child. A few weeks later my mother wrote telling me that Emma had died and the child, Elizabeth, had lived. Mother wrote quite often after that with gossip about Markus and his drinking. I understand from my brother Miles that Markus has not maintained his home."
Jane leaned back in her chair and let out another sigh. "That is more or less what the countess said. It would also seem that Lord Castlereagh's antics have finally caught up to him. The family could be in trouble if Markus does not come to his senses. For now, his sister's husband, Thomas Wheel, is holding things together."
"That is kind of him." Phoebe didn't want to say more about the relationship between Lord Castlereagh and his son-in-law, Thomas. Talking about Markus was part of the business but anything more about the family constituted gossiping. Thomas had many reasons to harm the earl and if he was helping him, it was for the sake of his wife and his old friend Markus. Miles had written to Phoebe just before she returned from Scotland with an account of a duel between the two men where Thomas was nearly killed. "Yes," Jane said. "It would seem Mr. Wheel is an extraordinary man.
Mrs. Wheel is a lucky woman despite what her mother might think."
"I am sure if Mr. Wheel were titled, Lady Castlereagh would have another opinion. However, my brother was very close with both Markus Flammel and Thomas Wheel at Eton. They are both fine men. If Markus has fallen this far, he needs help and the fact that his mother came to you must mean she is quite desperate."
"Agreed. Will you take the assignment, Miss Hallsmith? I know you were counting on some time off, but it would be difficult to sway the countess from her demands." Jane pulled a pen and paper from the drawer to her left. "This is the contract Lady Castlereagh signed. If you agree, I will put your name on it."
Phoebe hoped she didn't look as weary as she felt. "I will require a few days to rest, but I feel I must help Markus and Elizabeth for Emma's sake. She was a good friend to me. I called on Markus a year ago, after my grandmother passed. I had just returned to England. Markus was not at home and the housekeeper did not know when he would return. I will need a chaperon."
"Yes. I think Lady Honoria Chervil is the only Everton dowager available at the moment." Jane frowned, but there was amusement in her gray eyes.
"I know some ladies complain about her eccentricities, but she makes me laugh." Even the thought of Lady Chervil gave Phoebe a chuckle. She was irreverent, flamboyant, and energetic. Maybe just the thing Markus Flammel, the viscount of Devonrose and his estate, Rosefield, needed.
Jane nodded. "I will put you both down for the Flammel assignment and order a carriage for Friday. Will that give you enough time to recover?"
Four days with nothing to do but rest. It sounded like heaven. "Perfect. I will be ready to go. If you would not mind, I think it would be best if  I brought Arwen with me again. It is best to have a lady's maid when living with the ton."
"Of course. Lady Chervil will no doubt bring Margery with her. Just make sure you keep to the rules of the companion. None of the Everton Ladies or their staff are to be a burden to the clients."
"I will stick to the companion's rules." She patted the side of her bag where the booklet resided.
"By letting you go I am already breaking from the rules. It will be difficult for you not to become personally involved with the client when you already know him and are sympathetic to his situation." Jane shook her head and jotted Phoebe's name on the contract.
It was personal. There was no getting around it. Still, Phoebe was determined to be the best Everton lady to hold a companion and keep  to the rules. "Rule twenty may be bent, but it is not broken, Lady Jane. I will remain unaffected and do what is necessary to resolve the situation."
"I have complete faith in you, Miss Hallsmith."
Chapter 1
No. 6
Upon arrival, an Everton lady will seek the head of household and announce her presence and purpose.
—The Everton Companion Rules of Conduct
Years in Scotland caring for Grand had kept Phoebe from Rosefield and her best friend, Emma. Along the front of the grand estate, Emma's beloved rose bushes were overgrown and the facade loomed with sorrow and loss. Hesitating on the first step, she brushed aside her imaginings about the stones mourning Emma's death.
There were no words that could comfort Markus Flammel.
What would she say?
A wayward branch from the rose bush lay in her path.
Rubbing the chill of October from her arms, she took a breath, clasped her bag with her Everton lady's companion inside and pulled her shoulders back. She had faced her grandmother's recovery and eventually her death; she could face this too. She climbed the ten steps to the door and pushed aside her anxiety.
"This place is a bit unkempt, Phoebe." Honoria Chervil pranced up the steps beside her.
"Yes. That's part of why we are here, my lady." Phoebe grabbed the brass ring and knocked.
"We are arriving very early for paying a call. Perhaps we should have waited for the carriage to be repaired and come later with our belongings."
The hired hack rumbled back up the drive away from Rosefield. There would be no speedy escape.
Drawing a long breath, Phoebe pulled her shoulders back and her chin up. She was ready for whatever might come. "No. This is not a social call, Honoria. I did not wish to get a late start and it will take hours to have the wheel fixed at the inn. This will be better and the rest will follow this afternoon."
Glass shattered inside. Yelling and screaming and wood crashing sounded through the door.
"What on earth?" There was nothing worse than standing on the steps while screams and crashes filtered out. Phoebe pushed the door open.
As if her presence froze the scene, five pair of eyes stared at her in the threshold.
Two maids were on their knees surrounded by glass, faded flowers, and water. The round table lay in pieces behind them.
Mrs. Donnelly's bonnet was askew, her hair stuck out in all directions, and her chubby cheeks were as red as the overgrown roses in front of the house. The housekeeper scooped up a screaming toddler who was inches from getting into the dangerous glass.
Watson, the butler, stood like a statue staring at her with his hands in the air.
"What in the name of heaven is going on in here?" Phoebe never imagined her arrival would look anything like this.
Watson lowered his hands, smoothed his graying hair and approached. "I'm afraid you've caught us at an inopportune moment, my lady. The master has just arrived and we are preparing."
A maid sniffed as tears ran down her face and she used a rag to pull shards into a pile.
"Preparing for what?" Honoria asked.
"What on earth could be prepared by what I am witnessing?" Phoebe might have been out of line in questioning the staff of Rosefield before she'd even made her purpose known to Markus, but something was terribly wrong here.
Phoebe's mother had written about Emma's daughter, Elizabeth, being raised mostly by servants, but this was ridiculous. Elizabeth continued to wail as if being beaten with a stick and Mrs. Donnelly shushed her to no avail. Elizabeth grabbed a handful of Mrs. Donnelly's hair and they both shrieked until Phoebe's ears hurt.
"You might try back at another time, Miss Hallsmith." Sweat dripped down the side of Watson's long face.
Phoebe had a hundred questions, but would get no answers with the servants. What started as worry grew into annoyance, and she had to swallow down her emotions to remain calm. She turned to Mrs. Donnelly. "Madam, give me that child before she does you real harm."
Never had a woman of such girth moved with such speed. She foisted Elizabeth into Phoebe's arms. "It's not Little Elizabeth's fault, Miss. She misses her father and he—"
"That will do, Mrs. Donnelly." Watson's scolding tone stopped any further explanation and started the maid crying again.
Phoebe propped Elizabeth on her hip. "You are far too small to be causing so much chaos. I cannot imagine what your sweet momma is thinking looking down on you. Now I expect you to act like a little lady." Just like her father, Elizabeth had large green eyes, and they were wide open staring at Phoebe. A black smudge marred her left cheek and some
kind of jelly stuck all around her rosy lips and pert little nose.
"She doesn't speak, my lady, though we try to teach her," Mrs. Donnelly said.
At two years old, Elizabeth should have some vocabulary. Phoebe's heart clenched. She should have come sooner. Of course, that hadn't been an option, but it did not soothe her guilt. "Well, we need no words for the moment. I'm sure when Miss Elizabeth has something important to say, she will do so. I do not go by a title any longer. Miss Hallsmith will do."
Elizabeth relaxed and her little body conformed to Phoebe's side as if they were two parts of a whole.
"You know, your mother and I were very good friends, Elizabeth. I think that you and I will be as well, but you must behave with more manners. Shall we go see your father?"
A wide smile showed off several teeth and brought a lovely pink to her sweet cheeks.
Watson stepped forward but kept enough distance as to not fall into Elizabeth's reach. "That's what started all of this, Miss. I'm afraid his lordship does not wish to see…anyone."
A low growl issued from deep in Elizabeth's chest. Taking another step back, Watson paled.
"Ladies do not growl, Elizabeth. Where is his lordship?" Phoebe had spent years reining in her temper and learning to act like a lady even when she wanted to tear someone's hair out. It was becoming obvious that she would need to use all she had learned to get through the next few moments.
"In the study, but as I said, Miss Hallsmith, he does not wish to be disturbed." Watson held out his arms blocking her way.
Lifting Elizabeth higher on her hip, Phoebe turned toward the study. "I could not possibly care less about what his lordship wants. Lady Chervil, will you please wait here and explain our purpose?"
Honoria's chest puffed out as she lifted her shoulders and double chin. "I will be happy to, Miss Hallsmith."
Phoebe strode past Watson to the door and pushed through.
The enormous desk that Emma had purchased as a wedding gift for Markus took up most of the room. Phoebe's heart broke at the memory of how proud her friend had been of the custom-made gift. She had thought the sun rose with her husband, and the two had been the perfect couple. Wood, though dusty, paneled three walls while one boasted three large bookcases separated by two benches. A musty odor, from disuse and lack of cleaning, tickled Phoebe's nose.
Markus faced the cloudy window overlooking the side garden. "I do not wish to be disturbed. Go away."
The petulance of his tone only raised Phoebe's ire. Behavior of that sort should be disregarded, even if on the inside she seethed. Placing Elizabeth on the floor, Phoebe said, "That is too bad, my lord, as you have company who will not be turned aside. I am here on business."
His chair scraped across the wood floor as he stood and turned. He narrowed green eyes, shadowed with dark rings and sunken into pale skin, and he swayed. The strong, handsome man Emma had loved and married was no longer present in Markus Flammel.
Elizabeth froze.
Phoebe propped her fists on her hips and met his gaze.
"Phoebe Hallsmith?"
She dropped her hands and fell into a polite curtsy. "My lord."
"What are you doing here? Emma is gone."
His raised voice brought a whimper from poor Elizabeth who shrunk back and hid her face in Phoebe's skirt.
Turning, Phoebe called out the study door. "Mrs. Donnelly?"
Still frazzled and tattered, the housekeeper poked her head in the door. "Miss?"
"Please take Miss Elizabeth to the kitchen and see if Cook has a nice biscuit for her. Then see that her hands and face are washed before you bring her back here to visit with her father."
Mrs. Donnelly's face went white and she stiffened. "Little Elizabeth does not care for face washing."
"Do not tell me you are afraid of that child, Madam. I will not hear of it. Miss Elizabeth will be happy for the cookie and act the proper lady when it is time to wash. Isn't that right?" She gave Elizabeth a pointed look.
Red-faced, Elizabeth stared at Phoebe with her mouth open. Never taking her gaze away, she toddled over to Mrs. Donnelly and took her hand.
Once they left, Markus ran his fingers through his overlong hair. "How did you do that?"
Phoebe wanted to feel sympathy for him but she couldn't keep her annoyance in check. "What on earth is wrong with you? How can you talk about Emma that way in front of your daughter? I am well aware of the loss of my dear friend, so your attempt to hurt me was wasted. Why is your house in chaos? Why are Emma's roses along the front entrance overgrown? Why is your staff terrified of a small child? Where have you been that they are shocked at your arrival? I demand answers."
"You demand? Who are you to demand anything? Where were you when Emma lay in her coffin and they covered her up with dirt? You have no rights here." He collapsed into his chair.
Guilt swelled inside Phoebe, and she sat across from him. "I was in Scotland with my grandmother. She was ill and I could not leave her. I received a letter from my mother about Emma's passing, and you may believe me when I tell you I was quite devastated. However, there was nothing I could do for her as she was and is in God's hands." Pulling herself together, she added, "I have been sent here by the Everton Domestic Society at the behest of your mother."
"I do not care why you are here. Get out of my house. You only serve as a reminder of her."
Where was the Markus of old? The man who Emma had gushed over. Markus would stop in and enjoy tea and conversation with the ladies. "Answer my questions. Then maybe I will leave you in peace."
He lifted a bottle of liquor out of his desk drawer, banged it onto the surface, removed the top, and took a long pull.
Phoebe had never seen this side of Markus. Running might have been the smart thing to do, but she held her place and swallowed her fear. He had always been calm and polite. Everything admirable had gone with her friend and the child suffered for it. Something had to be done. "Have you taken to the bottle as well as neglected your responsibilities, my lord? I always imagined you were smarter than your father."
Markus's face colored a horrible shade of purple, and he hurled the bottle across the room. It shattered against the wall in a starburst of glimmering shards. Brandy ran down the wall in rivulets and the stench of alcohol swamped the room.
If she left now, she could escape whatever wrath she had unleashed inside of him, but where would that leave poor Elizabeth? "Are you quite through or are there other objects you'd like to destroy? Maybe you will hack up that desk Emma bought you next?"
The air went out of him and he slumped onto his folded arms atop the desk. His shoulders rose and fell several times before he sat up. "I have not been home because everything here reminds me of her and I am not strong enough. As to your other questions…" He shrugged. "I fired the gardener and the child has put a strain on the household. Did you say my mother sent you?"
Many things she should have said, but his eyes shone from too much brandy and practical matters needed addressing first. "I work for Everton Domestic Society. Your mother contracted for someone to help you with Rosefield."
"Help me? How can you help me? No one can help." He put his forehead on his arms.
Nothing was ever easy. She needed a dozen questions answered, but one or two would have to do while he was in this state. "Why is there no nanny?"
"I may have fired one or two." He leaned his head back against the leather and closed his eyes.
"What about your mother? Has she not come to help with the staff?"
The green of his eyes was as intense as his daughter's. He scoffed. "I tossed her from the house the last time I was home. I think she said something about never darkening my door again. Just as well."
The situation was coming into view, and the remedy would not be an easy one. "I see. Lady Chervil and I each have a lady's maid. We will need rooms made up. I expect your staff can handle that small task. Our carriage needed repairs so we hired a hack this morning. The Everton Domestic Society's carriage with our bags and maids will arrive later today. They will need to be brought in. I will explain to your staff my needs and expectations."
He stood, and pressing his knuckles to the wood, leaned forward. If the desk had not been so big, his looming might have been threatening, but as it was, he was too far away to leave her awed.
"You cannot live here. I am an unmarried man," he said, voice cracking.
It wrenched her heart. "Everton's is aware of your situation. That is why Lady Chervil is here as my chaperon. She is speaking with Watson now."
Raising his voice, he pointed at Phoebe. "I do not want her or you here. I do not need you here."
"Your rage does not scare me, my lord, so you might as well save it for someone else. You could tell me you will hire a reputable nanny and allow her to sort out your house. You might tell me you have met a fine woman and plan to remarry. You could step up and be the man Emma married and take care of your own house. If you can look me in the eye and guarantee me these things will happen, I will walk out that door and report to my superiors that all is well here and leave you in peace."
He sank back into his chair. "I will not be responsible for you or Lady Chervil."
"No. I imagine you are not even responsible for yourself these days. One more thing, my lord. When Mrs. Donnelly arrives back here in a few moments with your daughter in tow, you are to put aside whatever sorrows you have and pay her the attention she deserves. Do I make myself clear?" If she was overstepping her boundaries, she didn't care. He had suffered, but so had Elizabeth and at his hand. There was no time like the present to start a change.
"She looks too much like Emma." Pain etched lines around his eyes and mouth.
Sympathy shared the space with her disgust. He was in pain but his behavior could not be ignored. "And quite a lot like you too, Markus. She is a smart child and she needs you."
Tugging at his badly tied cravat, he pulled it loose. "You have been here not twenty minutes. How do you know she's smart?"
Phoebe sat on the edge of the monstrous desk. "Your daughter is two years old and has not spoken, yet she clearly understands what is said to her."
He sat up. "Has not spoken?"
It took a force of will not to rail at him for being so self-absorbed he didn't know his child was mute. "According to your staff, Elizabeth does not speak. I think that is a sign of her intelligence."
"How so?"
"To be so filled with sorrow at her age that she chooses not to speak to anyone means she understands a great deal of what is happening in her world. Perhaps she has nothing to say in a world that left her without a mother and a father."
Staring down at his hands in his lap he nodded.
One scratch at the door and it opened. Elizabeth ran several steps into the room, stopped and stared at her father.
Softening his expression, Markus looked up. "Come here, Elizabeth."
Elizabeth looked from him to Phoebe. She spotted the broken glass on the far side of the room and took a step back.
Phoebe smiled. "It's all right. Go to your father."
Going to one knee, Markus opened his arms.
Blinking, Elizabeth cocked her head before running into his embrace.
It was all Phoebe could do to keep from breaking down into sobs at the sight of father and daughter hugging. What had she gotten herself into? She must be mad. If Emma had not been her closest friend, she would have left Markus Flammel and his problems to someone else at Everton. Though, now that she'd seen Elizabeth, she wanted to see her happy.
Mrs. Donnelly watched from the doorway. She dabbed her eyes with her apron and sniffed back her tears.
Lifting Elizabeth, Markus sat in his chair and propped her in his lap. "I am sorry I have not been at home, Elizabeth. I promise to try to do better."
Elizabeth put her palm on his cheek and father and daughter stared into each other's eyes.
It was a start. Phoebe shooed Mrs. Donnelly from the study, followed her, and closed the door, giving them some privacy. "I will need two rooms made up for Lady Chervil and myself. Once they are ready, I expect you to begin the process of getting this house cleaned. It is a crime how far Rosefield has fallen in two years. It is clear Elizabeth needs a proper nanny and Rosefield needs a gardener. I will put those things at the top of my list."
A wide smile spread across Mrs. Donnelly's face. "Will you be the new mistress here then, Miss Hallsmith?"
"Do not be ridiculous. I am an Everton lady. I shall help get his lordship back on his feet, if that is possible, and I will see that the house and child are in order. Once that is done, I will leave them to their life." Fear and sorrow spread through Phoebe's chest. Was she doing the right thing? Would Emma approve?
Her gut twisted as it always did when she imagined the end of an assignment. The client went on their happy way and Phoebe moved on to the next client's life. She never moved on with her own. Going to Scotland at the age of eighteen meant that she had missed several key seasons where she might have found someone to love. At twenty-four, Phoebe's time to find a husband and have a family was at an end. Everton's had been a boon for her. If not for Lady Jane, she would be listening to her mother and eldest brother natter on about how disappointing she was.
Phoebe sighed. "Watson, we arrived in a hired carriage as ours had a wheel that required fixing at the inn this morning. I expect it will arrive in a few hours with our maids and trucks."
Watson straightened his coat and smoothed his hair back. "I understand, Miss."
At least he was acting like a butler again. That was a small piece   of progress. Phoebe would take some comfort in that. "Mrs. Donnelly, please knock on the study door in twenty minutes and take Elizabeth to the nursery. I am sure this will be very tiring for her."
"And for his lordship as well," Mrs. Donnelly said.
It was true, but Elizabeth was Phoebe's first worry. "I am less concerned with his lordship's condition. That child has suffered a lifetime. Well, her lifetime anyway."
"Miss, am I to understand that you will be taking over as housekeeper?"
Phoebe squeezed Mrs. Donnelly's hand. "I am not taking your position. I will leave when the house is in order. The viscount needs assistance and I need you to continue as the housekeeper Rosefield deserves. I would like to know: How have things gotten this bad, Mrs. Donnelly? Why have you not managed the house at least?" It was harsher than Phoebe had intended, but Rosefield was a mess. It was clear two years of neglect were at fault.
Mrs. Donnelly turned red and fussed with the keys at her waist. "I do not wish to speak against his lordship, Miss. He has been a good master for many years despite all the restrictions his father put on him. After my lady perished bringing the babe into the world, he was not the same man. More like the earl every day, he was. Drinking and disappearing for weeks on end. When he would come home, he'd fire half the staff. Some folks who had been in his service for years lost their posts for no good reason except his grief. It isn't possible to keep up a house of this size. We have only four of us left and the child to care for."
Horror smacked Phoebe in the face. "Four? You and Watson, the cook and one maid?"
"Cook was fired last year. The upstairs maid has been acting as cook. She's a fair one too."
"But it means there is only one maid for this entire estate." Drawing in a full breath, Phoebe made a mental list of all that would need her attention. "Things are far worse than I expected. It's a good thing I am here."
"Yes, Miss."
Honoria bustled in from down the hallway beside the stairs. "Do you know there is no staff in this house, Phoebe?"
Phoebe liked Honoria's directness, but sometimes wished she would save it for when they were alone. "I have just been informed, my lady. When the other carriage arrives, the driver and footman will have to bring our bags upstairs before they return to London. I will help get the rooms ready."
"Of course, my dear. I fear you have your work cut out for you." Sighing, Honoria ambled out the front door.
That much was certain. Wishing she had her grandmother's council, Phoebe climbed the stairs to find two guest rooms.
Emma's house was not the loving place it had once been, and perhaps being estranged from her own family did not make Phoebe the perfect choice to correct things. Still, she was determined to create a safe place for little Elizabeth even if that meant removing the child. As she entered the first guest room, she prayed that would not be necessary. Emma would not want Markus to be left all alone. She shook off the dismal notion.
Chapter 2
No. 18
An Everton lady will see to the welfare of any child before anything else.
—The Everton Companion Rules of Conduct
Certain his heart was breaking all over again, Markus knew he should keep holding Elizabeth, but he couldn't bear it. He turned her toward the desk.
She slapped her chubby little hands on the sturdy oak.
"Your momma bought me this desk as a wedding gift."
A moment passed, and then she turned and looked up at him before examining the desk again.
The knot in his chest tightened. His gut twisted. The day his sweet Emma had the monstrous piece delivered flooded back to him. She'd been so proud of the gift and cried when she realized it was too big for the room. Markus had assured her that he loved it and it was the perfect size. She had known he lied, but it didn't matter. He'd cherished the eyesore from the first day. Now it only served as a reminder of all he'd lost. Each week his secretary stacked papers on it, and on his rare visits Markus ignored the mess.
Phoebe Hallsmith was right, damn her. Emma would be ashamed of him.
Elizabeth patted his cheek and her green eyes glistened. "I know. It is far too big, but she loved me and it was a gift."
Her tiny fingers, soft in his hand, ripped his soul out. It was too much.
A knock at the door startled them both.
Mrs. Donnelly peeked in. "I thought the little miss might need to take a nap, my lord?"
Watching Elizabeth rub her face, he nodded. "I suppose we have had a trying morning."
Elizabeth toddled across the room, only looking back once, took Mrs. Donnelly's hand, and left.
It would be normal to feel loss, but Markus flooded with relief as the pain in his chest eased. Opening his drawer to drown his feelings with brandy only reminded him of the mess he'd made. He took out a piece of foolscap. He didn't need help and would write to Miles Hallsmith telling him to keep his sister at home where she belonged. That girl should be married and running her own house by now. Slamming the drawer closed, he rose.
First to find another bottle. Sure he had some in the cellar, he left his study, determined to complete his mission.
* * * *
Afternoon sun poured into his study and glared off the desk. The last Markus remembered he'd cursed Phoebe Hallsmith after downing half a bottle of brandy. Most of the day was lost to that bottle, but at least he'd not thought of his poor Emma in that time.
The house must have been on fire to cause the commotion clanging down the halls. Markus held the side of his head to keep his skull from splitting. The grandfather clock on the west wall read two o'clock. He must have drunk more than he thought to sleep so long.
Elizabeth's high-pitched shriek forced him upright and sent the room spinning. He sighed and pulled the cord for Watson.
The butler entered with a ridiculous grin spread across his normally dour face. "You called, my lord?"
"What on earth has gotten into you, Watson?"
Straightening, Watson wiped all expression from his face. "Nothing, my lord. It is only that Miss Hallsmith and Lady Chervil are in the foyer and it has been rather lively. The carriage with their luggage has arrived. They each have a maid, of course, and Everton's sent a footman and driver, who are assisting the transition. It is almost like old times. Of course, the footman and carriage will leave when the ladies are properly settled."
"Why would she bring her own footman?"
"I assume for protection on the roads, my lord. However, since you fired all of ours, it's a lucky circumstance."
Head aching, stomach churning, he had no patience for more of Phoebe Hallsmith's antics. "I did not ask your opinion, Watson."
"Did you need something, my lord?"
Markus grabbed a stack of papers from the desk and threw them at Watson. They rained down all over the room but none hit the butler, who watched without remark or expression. "I need silence."
Watson raised an eyebrow. "Miss Hallsmith wishes an immediate meeting with you, my lord."
Why couldn't everyone leave him in peace? "A cup of coffee and some toast would be nice, Watson."
"Yes, my lord." Watson stepped out of the room and closed the door. Shouting and the clunking of trunks resounded through the walls.
Elizabeth's laughter mingled with the cacophony. He jotted a quick note to Miles about his brutish sister and getting her taken away. Standing, he resolved to tell her to leave. This was still his house, and his mother had no right to send that woman to upset things.
The foyer loomed chaotic. Two men in unfamiliar gray livery carried bags and trunks up the steps at the constant order of a plump, gray-haired woman in a floral day dress and white cap. Standing on the third step brought her to the shoulders of the footmen before they started the climb.
Phoebe waved her straw bonnet about and scolded him from across the marble floor. "This lack of staff on your part is very inconvenient, my lord. I cannot keep Everton's footman or driver. We have brought our ladies' maids, but more than that was impossible beyond the initial move."
"This is my house, Miss Hallsmith. You were not invited and might consider that when criticizing." There, he had set her straight. He was in charge here and no one would usurp his authority.
"You did not invite us?" The woman on the steps trudged down and crossed to him.
He'd have been exaggerating if he said she was five feet tall. "No, I did not."
"Phoebe, what is the meaning of this?" A wiry gray hair escaped her loose bun, and she flicked it off her cheek several times, all without success. She propped her fists on her hips and a deep frown creased her etched face.
Phoebe scurried over. "The Countess of Castlereagh entered into the contract to assist here at Rosefield."
She looked from Phoebe to him. "You said he needed help. I assumed that meant he wanted our help. This is very out of the ordinary. I much prefer to be welcomed on my assignments."
Waving the comment off, Phoebe sighed. "I only said that, as a close friend of his lordship's wife, it was my responsibility to help. His mother indicated he was at the end of his wits and would fall into an even graver situation if no one helped. No one implied that he was in favor  of the prospect."
Elbows jutting out at her sides, Lady Chervil squinted at Phoebe while shaking her head. "Once again, you have manipulated the facts, Phoebe."
"No more than you would have, if you found yourself in such a position." Phoebe's smile was at once wicked and sweet.
Markus's heart skipped a beat or two, followed by a flood of guilt. He fisted his hands and pushed aside the stupidity.
A childish giggle tumbled from Honoria. "So true, so true. Well you had better do the honors, sweet girl."
All the silliness fled Phoebe's expression as she folded her hands in front of her. As demure in appearance as any debutante, she nodded once. "My lord, may I introduce Lady Honoria Chervil. She is a dowager who gives her time to the Everton Domestic Society in instances where it would be inappropriate for one of the ladies to go alone. Honoria, Markus Flammel, Viscount of Devonrose."
Honoria dipped into a pretty curtsy, leaving Markus no choice but to bow. "I apologize that you have come all this way at such great inconvenience, but as I told Miss Hallsmith, I need no help here at Rosefield."
Her fists returned to her hips and she narrowed her eyes at him. "Why have you no servants?"
Becca, Katy, Mrs. Donnelly, and Watson all stared at him. He pointed to them. "I have servants."
Rolling her eyes, Phoebe said, "Four. You have four servants for this entire estate."
He tried to think beyond the fog of past inebriation, but only hazy moments filtered through. Some of the staff had been at Rosefield since before he had inherited the estate. He wouldn't have let them go. "That cannot be right."
Watson said, "I guess it is five if you include Duck."
A new bout of annoyance flashed through him but his aching head took precedence. He'd kill for a cup of coffee. Trying to rub the pain away, he remembered the argument he had with the overbearing stable-master. "Becca, go and get me a cup of coffee."
She appeared as harried as he felt. Her dark brown hair stuck out in wild curls around her face. Wide-eyed, she scurried off toward the kitchens.
Elizabeth peeked out from behind Mrs. Donnelly's skirts. Fear etched in her tiny features, the laughter he'd heard from his study a distant memory. Tears dampened her cheeks. She sniffed and wiped her nose on the voluminous skirts before retreating behind their safety.
Somehow, he had become his father.
The entire household feared him. Worse than that, his own daughter shied from him, afraid he might fly off at her. Maybe the meddlesome girl was right. He hated that notion. Brushing aside what he didn't know, he focused on what he did. "I know I fired Duck. Why is he still here?"
"He refused to leave the animals with no one to tend them." Watson raised an eyebrow, but said no more.
"At least someone around here as some sense," Phoebe said.
"Are you saying that codger has been on my property, tending my livestock, without pay?" It wasn't possible. Why would anyone do such a thing?
Watson nodded. "For the past six months, my lord."
His valet would know the answers and dispel all this nonsense. "Where is Blakely? He will set this all right."
"I believe he is now valet to Mr. Tolsbury in Shropshire, my lord."
Hopeful, he asked, "He quit me?"
Eyebrow still raised, Watson said, "If memory serves, you told him he was a nefarious cheat and a black-hearted thief before you physically tossed him from the house."
A hazy memory of the scene prodded into Markus's mind. He rubbed his temple and clenched his shaking hand. A drink would steady that shake. The bottle he'd found in the cellar still had a few swallows left. All he had to do was step back into his study and shut the door, and he could make all of this go away. Closing his eyes did not change anything. Not his aching head, not the chaos that took over his home, and not the fact that Emma was dead. Continuing to drink himself sick wouldn't change the last, either. "Ladies, please join me in the study." He backed away and let Honoria and Phoebe precede him inside.
They stood amongst the scattered documents on the rug and waited for him to round his desk.
"Please forgive the mess. Be seated. I suppose I have put my estate in danger and should be thankful you have come." The words stung like hot lead in his gut.
Honoria sashayed into a chair by the window. She smiled and hummed as she stared into the garden.
Smoothing her pale green skirts, Phoebe sat in the chair across his desk. A warm smile tugged at her full lips. "I do not want or need your gratitude, my lord. I only want to do my job, my friend's home to be restored to a respectable state, and to be assured her child is cared for in the best way."
What could he say? He had failed and now he needed help to pick up the pieces of the mess he'd made. Sitting, he rubbed the back of his head. "What do you need from me?"
Clearing her throat, she fidgeted. "I hate to be blunt, my lord."
Honoria chuckled.
He wasn't immune to the irony either. "Please, do your worst, Miss Hallsmith."
"Your finances, my lord. Do they permit the hire of a proper household staff?"
The papers peppering the floor stood as a looming reminder of the loss of at least a year's revenue. Still, his failing wasn't permanent. "I shall make good the salaries of a proper staff."
She clapped. "I will begin the hiring process tomorrow."
Had her skin glowed like that when she was Emma's friend who visited from time to time? Tiny freckles dotted her cheeks and nose, warming her face. He'd never regarded her as pretty before, but she had grown into her looks and a lovely woman sat before him. "Is that all?"
"No. Two more things."
His stomach churned with hunger. "Only two?" Leaning back, he closed his eyes.
"You will spend time with Elizabeth every day."
It sounded like such a small task, but the idea shot pain to his heart. Little Elizabeth brought the night of Emma's death back as if it were yesterday. Bringing her into the world had killed his beautiful wife. Emma would not approve of his behavior and she would have gladly offered her life for Elizabeth's. "If the child wishes to see me, I will not object."
She sighed. "Not exactly gushing with adoration, but it is a start."
"And the other?"
She stood, forcing him to rise. "No more drinking, my lord. You will have to deal with your life."
The nerve of the woman. No one had the right to speak to him in such a way in his own home. He pounded the desk.
From the doorway, Becca shrieked and upended the tray. Coffee and toast crashed to the floor in a mess of porcelain and the lovely smelling brew.
He was doomed to do without coffee and it was his own fault. "Dammit! Who do you think you are?"
Becca began picking up the mess.
"Becca, please leave that for now," Phoebe said. "Lady Chervil, can you give me a moment with his lordship?"
Becca ran from the room.
Standing, Honoria narrowed her gaze on Markus. "My wrath can be quite daunting, my lord."
"Of this I am certain, Madam."
With a nod, she left and closed the door behind her.
"You have put your home and family in jeopardy with your wasteful drinking, Markus. Emma loved you and that is the only reason I am willing to help you. If it was not for her faith in you, I would have let someone else come here to sort you out. They likely would have taken one look at the scene this morning and taken Elizabeth from this house. Then what? Do you want your mother raising your daughter? I suppose we could write to your sister and see if she will take her. Is that what you want?"
Dory would take the child and she and Thomas Wheel would raise her as their own. His chest contracted until he couldn't breathe. "I do not wish to send Elizabeth away. Emma would not like it."
"Good." She drew a deep breath. "I do not care if you waste away  or drink yourself to death, but Emma would and so would Elizabeth. It disgusts me what you have done to yourself, but I will help you under the condition that you stop drinking and make efforts to put your life back together. Everton's has very strict rules and I have broken several of them with my directness, but I think it important that you and I have an understanding. No more drink."
Everything inside him tightened and seared with unspeakable pain. He sat in the chair next to her. "You ask the impossible. You cannot know what I suffered, what I still suffer."
"No. I cannot." She shook her head and met his gaze. "You have lost more than I can imagine, but it is not an excuse to ruin yourself."
"I cannot just get over her and move on. Emma was my life." He'd taken drink enough to fill the Thames, but loss still gouged at his soul. His heart had contracted to a stone and the damned world kept spinning. The sun kept rising. Night loomed long and painful. People went about their days as if nothing was wrong. But something was wrong. Everything was wrong, and still life went on.
Placing her soft fingers over his, she said, "No one is asking you to. That would be absurd."
He looked into the most expressive golden eyes surrounded by long russet lashes. His heart stopped and he had to force breath back into his lungs. "Then what are you asking?"
"That you learn to go on without her. To live and raise your daughter to remember her mother as the good and kind woman she was. Nothing will ever be the same. I do not think it is supposed to be the same. I cannot compare my grandmother's death to losing a spouse, but still, there is a hole where she once was. Yet, we must go on and be happy, or would you prefer to leave your daughter with neither mother nor father to raise her?"
Tears he'd not shed since the funeral rolled down his cheeks and he was at a loss for how to stop them. A long pull on the bottle in his desk would chase away his pain for a few hours. "I do not know if I can do what you ask."
"I know, but if you only take one moment at a time, Markus, I know you can do it. For Elizabeth's sake, you have to do it."
Tugging his hands away from hers, he breathed until his emotions were in check. Fingers fisted, he yearned for the contents of that bottle and the oblivion it would bring him.
The door creaked open and Elizabeth poked her cherubic face through the crack. Eyes like lonely lakes, she stared across the room, looking for something in him he could not find himself. Her chubby fingers clutched the doorjamb. So much worry in such a little person and all because he was weak. Her mother was gone and her father a monster who showed up only to tear the house down. It was impossible to recognize himself in the shell he'd become.
"Come in, Elizabeth. Everything is all right." His voice was rougher and less assured than he'd ever heard it before.
On sturdy legs, she toddled along the edge of the rug taking the long way around the disheveled room to his desk. At his knee, she stared up, blinking. Markus lifted her to his lap and Elizabeth settled against his chest. Her thumb popped into her mouth and her eyes closed. The scent of porridge and clean linen softened his heart as he brushed curls from her rosy cheeks.
"Hire the help we need, Miss Hallsmith," he whispered.
"When Lady Chervil and I are settled in, I will need to discuss with you a schedule for Miss Elizabeth at least until I can find her a proper nanny."
"As you wish."
Elizabeth's soft hair tickled the underside of his chin and her breath came slow and even.
Phoebe walked to the door but stopped at the threshold. "Shall I send Mrs. Donnelly in to take Miss Elizabeth to the nursery?"
It didn't matter to his daughter if he was a monster. She wanted him anyway. Emma had wanted him despite his shortcomings.
Elizabeth rubbed her nose and scrunched her sweet face before resuming sucking her thumb.
If his heart burst from his chest he wouldn't be the least bit surprised. It pressed against his ribs and threatened him with the emotions he'd been running from for two years. "I will take her up in a few minutes, thank you."
Pre-order now from: