Romance Writers Weekly ~ A Game of Would You Rather

How about a little fun this week? Jenna Da Sie set us up with a game of  Would You Rather – The Cooking Edition:
1) Cut out butter forever or sugar?
This is a tough one. I try to cut out sugar and it's an insidious addiction. Butter is too good to give up entirely though. I would give up sugar. Whew – I might need to sit down after that decision.
2) Have a normal size oven that heats inconsistently or have a toaster oven that bakes everything perfectly?
I'm not much of a baker, but a working oven is essential. I pick the toaster oven.
3) Make something beautiful that tastes terrible or make something ugly that tastes great?
Oh lordy – I love a good presentation, but I have to go with great taste.
4) Forget to preheat oven or forget to bring ingredients to room temperature.
These are both easy fixes, but I guess forget to bring my ingredients to room temperature. Again, I don't bake too often and in cooking this is rarely an issue. When you bake the temp of ingredients is more vital. All that science.
5) Have to measure ingredients by eye or have to guess how long things have been in the oven?
I'm pretty good at eyeballing ingredients.
6) Win a national baking award or create a recipe that gets handed down for generations?
Hmmm…. I think I want that award. LOL. Maybe because I don't have kids. Still, my nieces and nephews…. This is a tough one.
7) Mix everything by hand or wash all dishes by hand.
I'd rather wash the dishes. I love my KitchenAid more than is normal. 😉
---
Either keep on hopping to S. C. Mitchell – https://scmitchell.wordpress.com/ or you can hop back to Brenda Margriet http://www.brendamargriet.com/blog Whatever direction you choose, be sure to keep on hopping until you see me again. 😀
---
Have you picked up your copy of A Lady's Honor yet? You can buy it on Preorder now for just $2.99.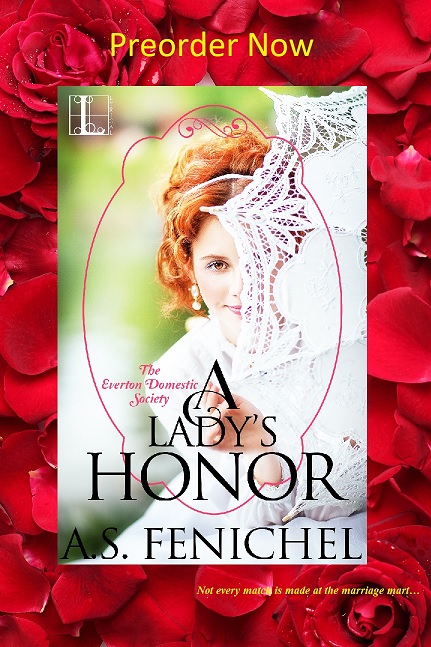 Not every match is made at the marriage mart…
After a disastrous, short-lived engagement and years of caring for her ailing grandmother, Phoebe Hallsmith is resigned to spinsterhood. But if she must be unmarried, far better to be of use than languishing at home, disappointing her parents. As an employee of the Everton Domestic Society of London, Phoebe accepts a position at the country home of an old friend and discovers an estate—and a lord of the manor—in a state of complete chaos.
Losing himself in the bottle has done nothing to ease Markus Flammel's grief over losing his wife. Not even his toddler daughter can bring him back from the brink. Now this fiery, strong-minded redhead has taken over his home, firing and hiring servants at will and arousing unexpected desire. As not one, but two, suitors suddenly vie for Phoebe's hand, can Markus move past loss and fight for a future with the woman who has transformed his world?
Buy Links
Amazon – https://www.amazon.com/Ladys-Honor-Everton-Domestic-Society-ebook/dp/B073PB8P6N/ref
Barns & Noble – https://www.barnesandnoble.com/w/a-ladys-honor-as-fenichel/1126718084?ean=9781516105847
Kobo – https://www.kobo.com/us/en/ebook/a-lady-s-honor-1
Google Play – https://play.google.com/store/books/details/A_S_Fenichel_A_Lady_s_Honor?id=x6wrDwAAQBAJ
iBooks – https://itunes.apple.com/us/book/a-ladys-honor/id1257498192?mt=11s