Romance Writers Weekly ~ Lifehacks

Glad you're here. Brenda Margriet wants us to share our best life tips. The internet is full of hacks to make cleaning, cooking, packing and everything else in life easier, but which ones work and which don't? Share your shortcuts here!
I had to really think hard about this. You know, you go through your day and you don't think about the tricks you've learned along the way that make life better or easier. If you follow me at all, you know I love to cook. So, this first thing is the best advice I ever got with regards to following a recipe. Ready? Read the entire recipe from beginning to end before you start to cook. I know it sounds simple, but most people read as they cook. I used to. I promise you this one simple thing, will keep all those recipe disasters at bay. Trust me.
I have one more for you. I worked for a carpet manufacturer for years and am almost an expert at getting stains out of carpet. Ready? Let's say you have spaghetti sauce on your carpet. Get a bowl of warm water with dish detergent (dawn or other) in it. A squeeze or two is plenty. You need white paper towel. (The kind with print can leave marks) Now, when you clean blot the stain, never scrub as scrubbing unravels the carpet yarn and wears out your carpet. So you've gotten most of your stain out, but there still some left. The carpet should be wet from your efforts. Stack up about an inch worth of white paper towel. Flat not bunched. Put the paper towel on the stain and place something heavy on top. Make sure whatever it is will cover the entire stain. I usually use a stack of heavy books. Really heavy like ten coffee table books. Give this eight hours. The stain will be drawn out into the paper towel. For really tough stains, you can repeat the process two or three times, but most things come up with one pressing.
---
You can either hop back and hear what Brenda Margriet does to get through the day a bit easier or keep on hopping and find out if Jenna Da Sie has the best tips. 
---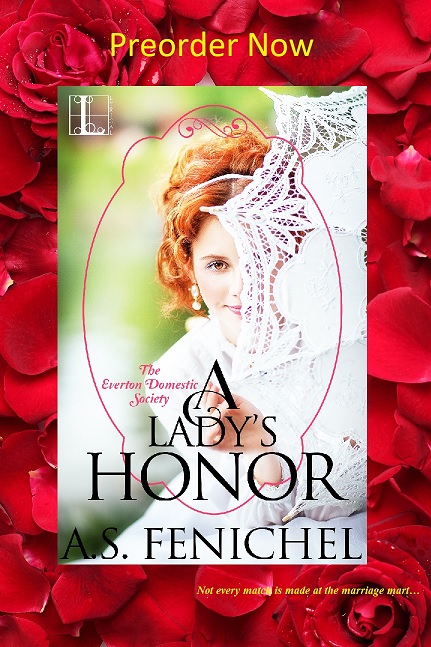 "
A Lady's Honor
 has a lot going for it: silky smooth prose, a fresh and fun premise and a blazingly competent heroine." –
RT Book Reviews
Buy Links
Amazon – https://www.amazon.com/Ladys-Honor-Everton-Domestic-Society-ebook/dp/B073PB8P6N/ref
Barns & Noble – https://www.barnesandnoble.com/w/a-ladys-honor-as-fenichel/1126718084?ean=9781516105847
Kobo – https://www.kobo.com/us/en/ebook/a-lady-s-honor-1
Google Play – https://play.google.com/store/books/details/A_S_Fenichel_A_Lady_s_Honor?id=x6wrDwAAQBAJ
iBooks – https://itunes.apple.com/us/book/a-ladys-honor/id1257498192?mt=11s
---