Romance Writer's Weekly ~ Flash Fiction

So, we moved! I now live in Missouri. It's beautiful here though a bit rainy today. Anyway, that's my excuse for being away lately. We've started building a house, so that will eat up a lot of time too, but I'm going to try to post as regularly as possible.
On to business!!!
This week
Dani Jace
asked for 500 words or less of Flash Fiction using dog, fire & rain
I am literally just going to FLASH write this so don't judge me too harshly. 🙂
---
Panic rolled over and through Andi as she searched the yard for the old
dog
. Half blind, arthritic, mostly deaf and Molly had still managed to slip away from four adults unnoticed. If anything happened to that dog, she would never forgive herself. After all this time, love and care, too lose her and never know what happened was cruel.
.
Tears pushed at the back of her eyes as she walked down the road toward the house. "Molly…Molly!" It was getting late. In a couple of hours the sun would set and then what, Molly would be food for the Coyotes. They'd been searching for almost two hours. Gut in knots she kept looking and calling.
.
"Molly," Donna called up ahead. She whistled and scanned the woods leading down into the ravine.
.
Thunder sounded with the coming
rain
and Andi groaned. It wouldn't surprise her if the ravine caught
fire
. It was just that kind of day.
.
Donna yelled something other than the dog's name into the ravine. The tone was lighter, hopeful.
.
Andi quickened her gait. "Did you find her?"
.
"Yes. Dave has her." Donna stared into the woods.
.
At a jog now, Andi crossed the cul-de-sac and lawn to the edge of the woods. The hint of movement three hundred feet down in the shadowy ravine revealed Dave carrying that little black dog and sucking wind.
.
"Is she hurt?" Andi asked.
.
"No. Just scared and she weighs about two hundred pounds right now."
.
Relief washed over her. It was a damned miracle. In great shape, this was the first time Andi had seen Dave struggle with any activity. The Ravine was deep and he was nearly to the top. "Are you okay?"
.
Dave stopped, took a breath and walked on. "I need some water."
.
Andie rushed down the last thirty feet and took Molly from his arms. "Oh, baby girl. You scared the hell out of me. You're going on a leash from now on…
.
NOW… you have two options: You can hop forward and see what
J.J. Devine
wrote or hop forward and keep on with
Dani Jace
! Either way hop along until you get back to me and you'll have read them all. I know they are all fantastic.
---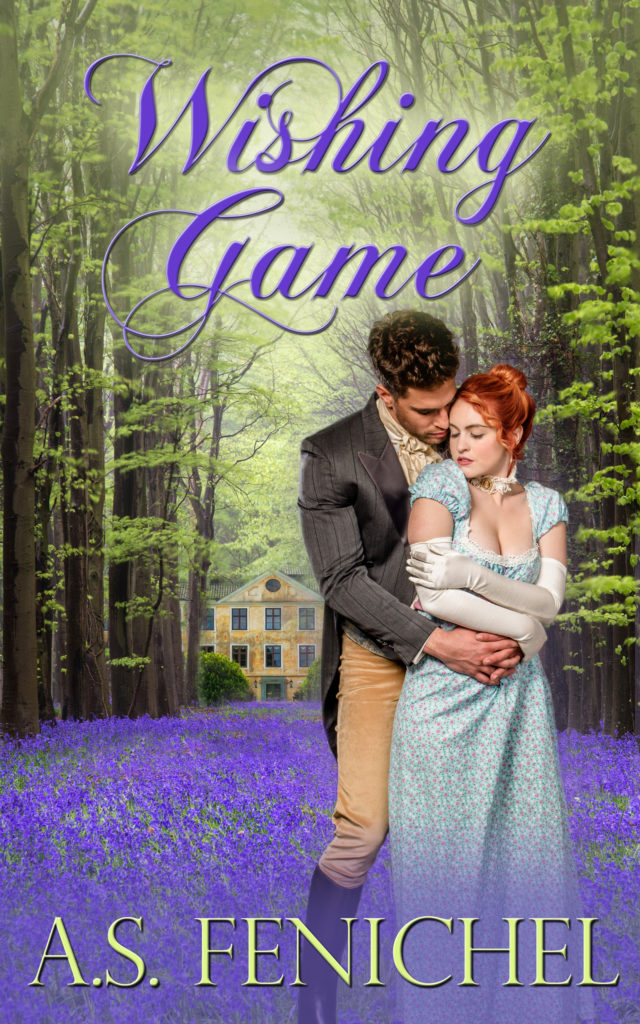 Playing the Wishing Game could cost her everything or bring Mary the man of her dreams…
The Earl of Westbridge is dying, and without a male heir. His daughter Mary will lose her home if she doesn't marry before her father passes. She has already turned down two men while holding onto the hope of finding true love. In her desperation, she plays the wishing game, a childhood folly devised to chase away fear during thunderstorms.
Avery is the unwilling heir to the Westbridge earldom. He arrives a few days before the spring holiday in the middle of a horrific storm to offer his assistance to his distant cousin. Anticipating a spinster who had been put on the shelf, he certainly never expected to develop feelings for the beautiful Mary Barrow.
Mistrust and doubt engulf them. It will take a miracle to bring them together. Or maybe just a wish come true.