Snippet from A Lady's Escape
I thought you might like to read a snippet from my latest book, A Lady's Escape. I hope you enjoy it.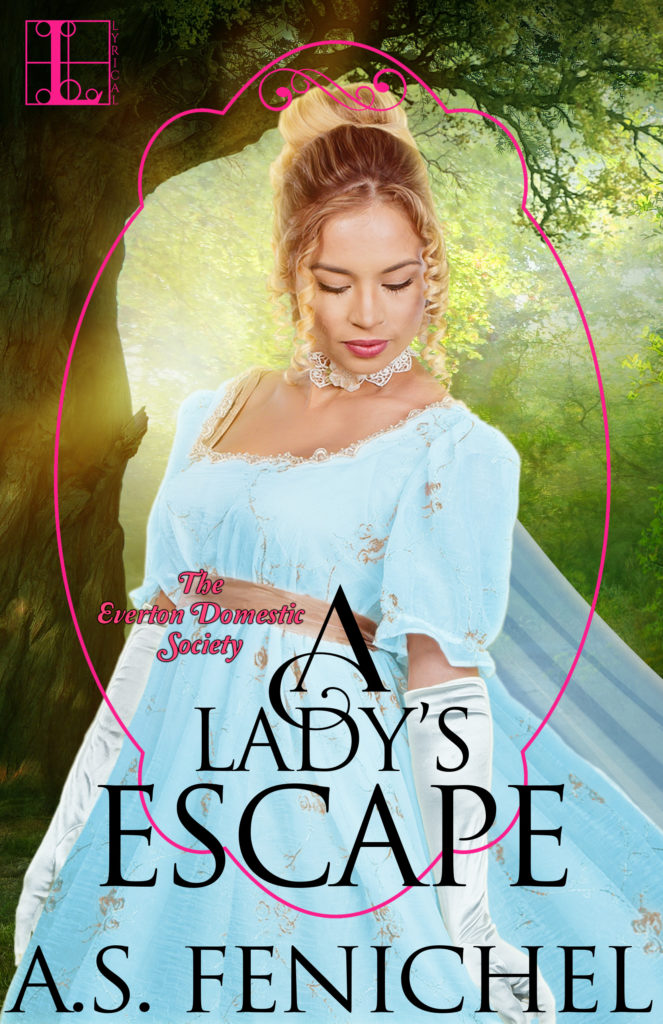 Chapter 3
Still put out by his mother's high-handed move, Preston had to admit Miss Edgebrook had handled him nicely. She might have run out or gone into a rage when he'd become incensed by her presence. Instead, she'd formed a plan to find him a wife. Having not intended to insult or upset her with his memories about her first season, he'd been shocked when she left in a snit.
His carriage rolled to a stop in front of Everton House. The neighborhood was not as fine as where he lived in Mayfair, but Soho Square was quite respectable. This Everton Domestic Society was an intriguing establishment.
Imagine, a group of fine women past their prime yet above going into regular service, finding approved employment. It must be looked upon as a great thing. He reserved his opinion until Millicent Edgebrook proved herself useful.
The front door opened before he'd reached the top step. An ancient butler waited at the threshold. "Your Grace, Miss Edgebrook will be down directly. The company is enjoying refreshment in the great parlor. Would you like to wait or join them?"
"I shall remain here if Miss Edgebrook will be ready soon." Lord, he sounded like a snob. But mingling in a room full of spinsters was not his idea of a fine evening.
"Gray, I am ready now. We need not delay His Grace." At the top of the staircase, she was like an angel all in white with her blond hair twisted in an intricate design atop her head. Those crystal-blue eyes glowed, lit from within, and her snowy gown floated down from the band just under her
full breasts. As she reached the lower steps, he was treated to the lovely view of her ample bosom stretching the limits of the daring neckline.
Mouth dry, Preston stepped forward and met her at the base of the stairs. "You look quite lovely, Miss Edgebrook. I'm surprised."
"That was nearly a very nice compliment, Your Grace." She stepped around him and took her pelisse and gloves from the butler. "Gray, is Mrs. Whimple ready to leave?"
"She is in the great parlor, miss. Shall I call for her?" On his last legs, it was a miracle Gray had remained standing this long.
Smiling at Gray, Millicent said, "I will look in." She scurried down the hall out of sight, returning a minute later with the harried-looking Mrs. Whimple running behind. Preston couldn't seem to say anything right when it came to this Everton Lady. He returned to the front door, and they left as soon as Mrs. Whimple pulled on her gloves and overcoat.
William stepped down from the carriage and handed Mrs. Whimple up.
Preston did the same for Millicent. "I did not mean to say that you could not be lovely. Only that I was surprised by the effort made for this ball."
Standing on the carriage step brought her to his eye level. "Your Grace, I am sure you are trying to be polite, but you are failing. May I suggest we stick to the business at hand and find you a wife?"
Never in all his life had he had so much trouble speaking to a woman. Perhaps it was that she continued to surprise him at every turn, but something about Millicent Edgebrook turned him into a blithering idiot. "That might be best."
Inside the carriage, Mrs. Whimple huddled in the corner shivering.
"William, can you throw down the fur?"
"Yes, Your Grace." In a moment, William, cheerful and ruddy, handed a fur blanket into the cab.
Handing it to Mrs. Whimple, Preston said, "This should help with the chill, madam."
"Thank you, Your Grace. I'm always cold." She huddled under the brown fur.
The weather was damp and cool, but not nearly cold enough for the thick fur. Millicent leaned back, her expression calm and her light pelisse apparently enough to keep her comfortable.
When she had been at his home, he had thought her pretty, but dressed for a ball, she was stunning. He'd bumbled his compliment, but if he were honest, she took his breath away. Best not to be too honest.
They arrived at the Hansons' townhouse, and he handed the ladies down before offering Millicent his arm.
She stared for a moment then said, "Your Grace, it is better if I follow you in. We would not wish perspective brides to think you taken or start a scandal about the two of us."
"I see your point, but I feel quite uncomfortable allowing you to enter unaccompanied."
Her smile could lift anyone's spirits, and Preston was not immune. "I shall be fine. No one pays any attention to Millie Edgebrook. You may trust me about this."
"As you wish, Everton Lady." Once they were inside and had been relieved of their outerwear, Preston
said hello to their host and hostess. Sir Nigel Hanson and Lady Hanson were from old money.
"I was so thrilled when I received your acceptance, Your Grace." Lady Hanson's face was heavily powdered, and the darks of her eyes were full of mirth and oblivion of indulgence, perhaps opium, judging from the sickening sweetness of her breath.
"It was gracious of you to invite me, madam. I'm sure it will be a singular evening."
"Who is with you, Middleton?" Sir Nigel asked.
Perhaps she thought she would go unnoticed, but it was not the case.That dress alone would draw attention. Petite to be sure, but all her curves made Millicent stand out. Offering his hand, he drew Millicent forward. "This is Miss Millicent Edgebrook. Her uncle was feeling unwell this evening and asked that I accompany his niece to your fine ball. I assured him I would see she was safe throughout the evening, and of course she has Mrs. Whimple as her chaperone."
Lady Hanson narrowed her gaze but put on a grin. "I'm so pleased tosee you, Miss Edgebrook. I hope your uncle's condition is not serious."
Blinking several times, Millie relaxed with a long breath. "He will be fine, thank you. Just a small incident with one of his silly experiments. The damage was minimal, and His Grace has been a saint to assist this evening. I was so looking forward to your ball." Millicent smiled the perfect fake smile of a debutante.
Preston was certain they taught the look at finishing school for young ladies. He hated seeing it on this particular woman. She had been so genuine until that moment. "Shall we enter, Miss Edgebrook?"
She took his arm, and they turned into the ballroom. She whispered, "You are quicker on your feet than I expected."
"Miss Edgebrook, that was nearly a nice compliment. Do you think you could wipe that expression off your face?" He didn't know why he should care about her false countenance, but it nagged at him.
Stopping, she looked up at him. "What expression?"
At least now she was genuine with her open mouth and wide eyes. "The one all you young ladies use when you want to look pleasant and disinterested."
Her amusement began in those doe eyes a moment before her musical laughter reached her lips. "I didn't know we all had such a look, Your Grace."
"Of course you did." If he didn't change the subject, their banter would leave him smitten with the one unmarried girl in the room who he was not supposed to like. "This is your plan, Miss Edgebrook. How do we begin?"
---
Buy Links
Amazon – https://www.amazon.com/Ladys-Escape-Everton-Domestic-Society-ebook/dp/B078VVDQY4/ref
Barns & Noble – https://www.barnesandnoble.com/w/a-ladys-escape-as-fenichel/1127779687
Kobo – https://www.kobo.com/us/en/ebook/a-lady-s-escape
Apple – https://itunes.apple.com/us/book/a-ladys-escape/id1332432080?mt=11
Google Play – https://play.google.com/store/books/details/A_S_Fenichel_A_Lady_s_Escape?id=eMJFDwAAQBAJ