Romance Writers Weekly ~ Micro Flash Fiction

Welcome in! I'm not sure how this will turn out, but here we go.
Jenna Da Sie gave us the following prompt for this week – It's time for a micro flash fiction! Write 250 words with a genre of your choice, the location is a tunnel and the object is a flower.
---
A Lady's Past comes out in less than a month. I made up this morning. A little p.s. to that story. LOL
The damp tunnel, split before it split again. Sitting with his back against the rough wall, Nick was good and lost. All he wanted was to get back to the surface and back to Faith. Air was at a premium and the walls pressed in on him.
The lamp's candle he carried, had an hour perhaps an hour left to burn before he would be plunged into complete darkness. Pulling the cravat from his neck, he wiped his brow and imagined Faith's warm honeyed eyes and curvaceous figure. He pulled the rose bud his inside his coat pocket cupped it and breathed in the pink flower's sweet scent. Faith had handed it to him just after dawn. Had she guessed what a mess he would make of the day? He'd told her he was done as a spy, but had followed Drake's orders that turned out to be based on bad information. He was in real trouble again.
The candle flicked as if caught in a breeze. Nick's heart stuttered. Replacing the memento, he took up the lamp and rushed forward. His legs ached with an uphill slant. Another bend and the scent of fresh air arrested him. Faster now, he barreled forward until he reached an opening. Gasping for breath, he leaned on the side of the rock exit and reveled in his luck.
"Did you find him?" Drake stood three feet away scowling with his fists perched on his wide hips.
Nick pushed away, stepped forward and punched Drake in his long nose with a satisfying crunch.
---
or hop back if you missed Jenna Da Sie
---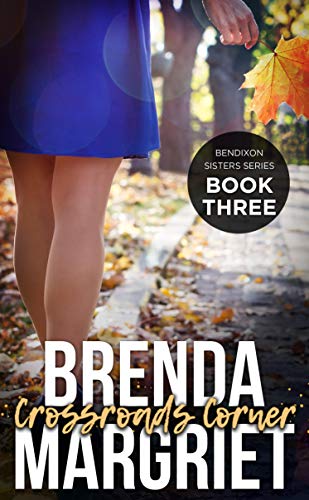 Go and get a copy of Crossroads Corner by Brenda Margriet! Preorder now for just .99 cents and have it in your Kindle on November 12 ready to read.
After an embezzling boyfriend puts her under police suspicion—and deeply in debt—Camryn Bendixon joins her grandfather's failing construction company. Her goal is simple—work constantly to rebuild her career and her self-esteem. And if she must drag Bendixon and Sons back to profitability by her well-manicured fingernails, that's what she'll do.
Will Danson knows life is fragile—a fact brought home when Laura, his only child, lost her sight. Determined to provide for her, he does his best to balance managing the Prince George division of the Kohlenburg Group with his young daughter's needs. But it can be a lonely road for a single dad.
Soon Camryn and Will are competing for construction bids and career-making contracts. But it is Camryn's battered heart that Will truly wants to win.