Guest Author ~ Sandi Ward with THE ASTONISHING THING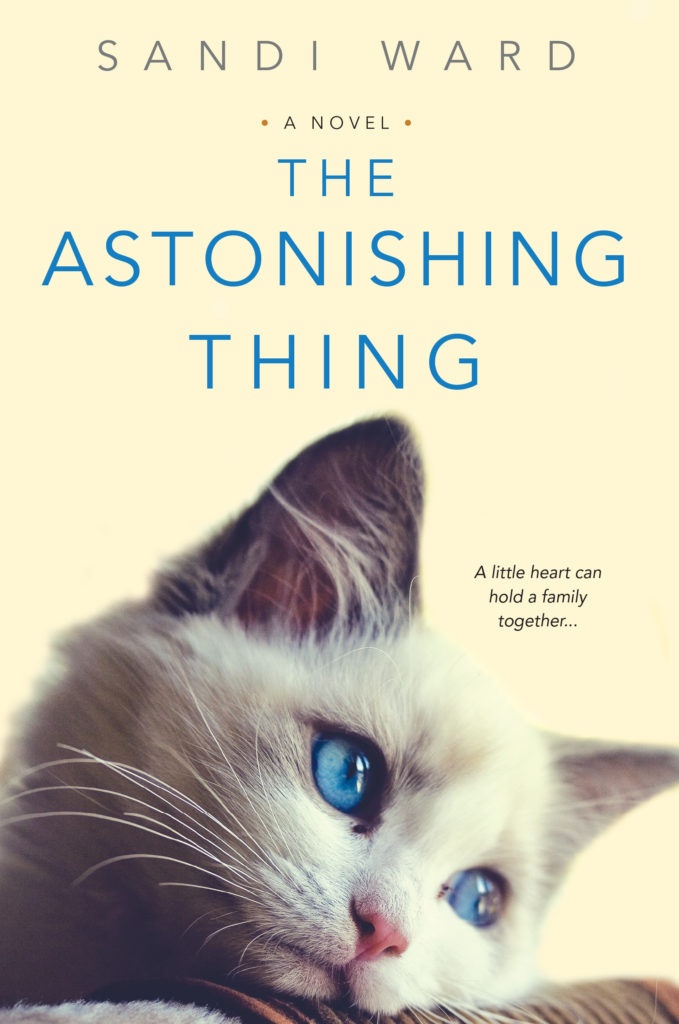 I'm so happy to have Sandi Ward here today. She was gracious enough to answer a few questions about her writing and her new book The Astonishing Thing. I LOVE that cover.
Everyone, Welcome Sandi
Let's get to it.
Your website says you write "Books about love. Family. Forgiveness. And cats." Tell us more about that.
I have written two novels for Kensington Books. The Astonishing Thing was just published, and my next book, Something Worth Saving, will be out November 2018. Both books are about troubled families and struggling marriages, but they are told from the point of view of the family cat. The cats love their humans, but are sometimes puzzled by human behavior.
Is there romance in The Astonishing Thing?
Yes—I love romance! I have never written a book that didn't include romance. Love inspires and compels people to act in ways they normally wouldn't dream of. It's a great way to get a character to come out from behind her inhibitions, to break out of her shell, and act with a bravery she never knew she had. Romance plays a key role in all of my stories.
My cat Boo, the narrator of The Astonishing Thing, finds humans in love to be very amusing. She's surprised at many of the crazy things humans do.
What are you getting your cat Winnie for the holidays?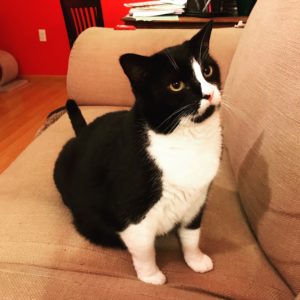 Winnie would most appreciate cat treats—in all flavors. But the fact is, she's quite large and I probably shouldn't be indulging her in too many extra snacks, so I'll try not to go overboard. When we adopted her, we promised the SPCA we'd keep her inside, but that means she doesn't always get as much exercise as she should. I'm sure I'll find some fun toys and a catnip mouse to fill her stocking.
ABOUT THE ASTONISHING THING
In her inventive, sometimes bittersweet, ultimately uplifting debut, Sandi Ward draws readers into one extraordinary cat's quest to make sense of her world, illuminating the limits and mysterious depths of love . . .
Wonderfully tender and insightful, THE ASTONISHING THING explores the intricacies of marriage and family through an unforgettable perspective at the center of it all.
"A unique and poignant tale of a family's struggle as witnessed by someone who sees everything…a triumphant debut for Sandi Ward."
— Helen Brown, New York Times bestselling author of Cleo
Pick up your copy of The Astonishing Thing
LEARN MORE AT:
 www.sandiwardbooks.com
---
---
My latest and greatest…
Desperate Bride – A story about how far a woman will go to protect her love of music. If you've ever been passionate about anything, this book is for you.
I think you're really going to love Thomas and Dory's story.
An unexpected promise . . . an everlasting passion.
.
An accomplished musician, Dorothea Flammel has refused more proposals than any London debutante; her only true love is her music. Dory's shimmering talent and beauty have long been adored from afar by Thomas Wheel, an untitled gentleman who can only dream of asking for the hand of a nobleman's daughter. But when her father, the insolvent Lord Flammel, arranges for Dory to marry a lecherous Earl in order to pay off a debt, she runs to Thomas—and proposes marriage to him.
. 
Eloping to Scotland saves Dory from a disastrous fate, but what is for her a mere marriage of convenience proves more passionate—and more complex—than either imagined as rumors, scandal, and buried emotions come to light. And when a vengeful challenge from a drunken and embittered Lord Flammel puts Thomas's life on the line, will the fragile trust between husband and wife be enough to save them both?
Buy Links
Amazon – https://www.amazon.com/Desperate-Bride-Forever-Brides-Fenichel-ebook/dp/B01MS3618J/ref=asap_bc?ie=UTF8
Barns & Noble – http://www.barnesandnoble.com/w/desperate-bride-as-fenichel/1125424536?ean=9781601839664
Kobo – https://www.kobo.com/us/en/ebook/desperate-bride
Google Play – https://play.google.com/store/books/details/A_S_Fenichel_Desperate_Bride?id=9nvRDQAAQBAJ
iBooks – https://itunes.apple.com/us/book/desperate-bride/id1196955489?mt=11
---