Romance Writers Weekly ~ Top Ten Tips

Clair Brett wants to hear about – What are your 10 best tips as a romance writer to keep your business organized?
So… I'm a BIG Planner Geek! You can now imagine that much of my organization has to begin with my planners. Yes that's planners plural.
First I have a planner for every day, in which I keep

Writing goals
Appointments
My to do list

I have a social media planner. That's where I keep all the posts I plan and have planned to keep my readers in the loop
All my receipts for writing related things go into a folder for my taxes. I really make an effort to keep everything in one folder to make things easier in January.
I have a small travel planner that I keep in my purse with just the BIG scheduling items. This is so I don't over book when I'm not at home

Book Releases
Hair appointments
Facial appointment
Doctor's appointments.

Blocking out time for writing: This is super important. I always set aside time during the day to write without too many distractions.
Blocking out time for Social media.

An hour on Sunday to schedule my Facebook posts
About 15 -30 minutes a day to keep up with comments, Instagram and others

Once or twice a month I make time to write my newsletter and keep my sweet readers in the loop.
I keep files for receipts, coupons, tax documents, medical bills, conferences and other recurring items in a organizer on my desk so I can just pop things in there without having to dig around or go too far.
Make time for reading. It's so important to feed the imagination. I always try to listen to a book when I walk in the morning and also read a book during lunch or after dinner.
This last one is really important —- MAKE TIME FOR FUN —- It's so easy to forget that having time for self care and fun is just as important as working hard to achieve our goals. A little fun recharges the batteries of the mind and soul.
---
Hop back if you missed Leslie Hachtel
---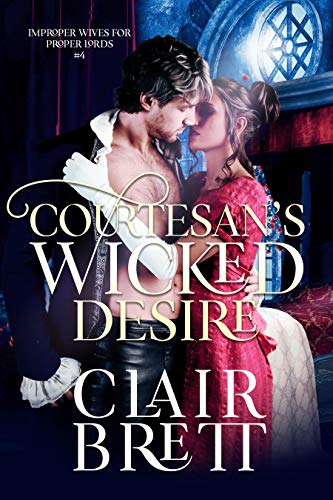 Be sure to grab a copy of Courtesan's Wicked Desire by Clair Brett!
A lady and courtesan…
https://www.amazon.com/gp/product/B084GV786R/ref=dbs_a_def_rwt_hsch_vapi_tkin_p1_i0After the man she loves is forced to marry another, Lady Sarrafinna Lennox remakes herself into the most famous courtesan in England. If she cannot have love, she will have freedom. But freedom alone cannot fill an empty heart. When fate puts her in the path of her greatest regret, will rekindled passion offer a second chance?
A hero and a spy…
After his wife's death, diplomat to the crown, Lord Kendrick Chase returns to London to be closer to his daughter. But when a friend taps his expertise to help smuggle a rebel into Denmark, a simple favor may be Kendrick's end. Now, hunted by his own government and running out of options, fate drives him to the doorstep of the one woman he wants most to avoid. The woman he still loves, even as she offers herself to everyone else.
With the fate of a nation in their hands…
Love binds them. Passion pulls them closer. Will deception, secrets and murder drive them apart again… and destroy the future of a nation?