Romance Writers Weekly ~ Flash Fiction

Leslie Hachtel wants some Flash Fiction! The rules are 500 words or less using the words herbs, hair and heaven.
---
Here we go…
Lotty didn't mind taking a break from her writing to do some chores. The spring rains had allowed the small kitchen garden to flourish. She placed the herbs in her basket. Father would bring yet another suitor home for her evaluation. The five men forced to come for dinner at the home of the head of the English department had failed to impress her.
Tossing her unpinned blonde hair over her shoulder, Lotty returned to the house.
Voices in the kitchen alerted her to her father's presence. Father never came home so early. She wiped her hands on her smock, untied it and hung it on the hook near the back door. Ready to do battle, she strode into the kitchen.
Mother giggled like a young girl at something the dark-haired man with wide shoulders said.
Father looked ready to burst with joy. "Oh, Lotty, there you are."
"I brought mother the herbs she needs for dinner." She put the basket on the counter.
"This is Professor Malcolm Warwick. Mal just moved here from England. I thought it might be nice for him to meet someone closer to his own age." Father wasn't fooling anyone.
Professor Warwick turned away from Mother, his smile widened as one does when meeting someone new, but when he made eye contact his grin turned to gaping and his sea-green eyes widened. "Miss Morris, I… It's a pleasure to meet you." His deep voice and British accent contrasted his surprised stutter and awkward bow.
Heat rushed up Lotty's face. "You must be the youngest professor at Princeton, sir. How are you liking New Jersey so far?"
He eased across the kitchen toward her. "I started at Oxford rather early in life and thus find I am generally younger than my peers. The weather is much finer here than in England."
Generally, Lotty would find some reason to get away from men her father wanted her to like, marry and have a dozen children with. But Malcolm Warwick didn't make her want to escape to the comfort of her room. "We had a great deal of rain this spring, but summer has come finally."
Mother's grin was ridiculously jubilant. "Lotty, why don't you take our guest for a walk in the garden. Dinner will be at least an hour."
"Would you care to walk, Professor?" Lotty's heart lodged in her throat.
With a nod, he followed her out and with him the scent of a good pipe, the outdoors and Heaven.
"Your father tells me you are an accomplished writer." He stepped beside her on the path. "He mentioned you'd had several stories published."
Lotty didn't know which was more satisfying: that her father had boasted about her or that this stunning man was interested in her work. "I'm working on a novel, though I do like to write the short stories. I find them a challenge."
"Perhaps when we are better acquainted, you might share one with me." His arm brushed hers and heat licked up her sleeve.
Barely able to breath, she said, "Perhaps."
---
Hop back if you missed Leslie Hachtel
---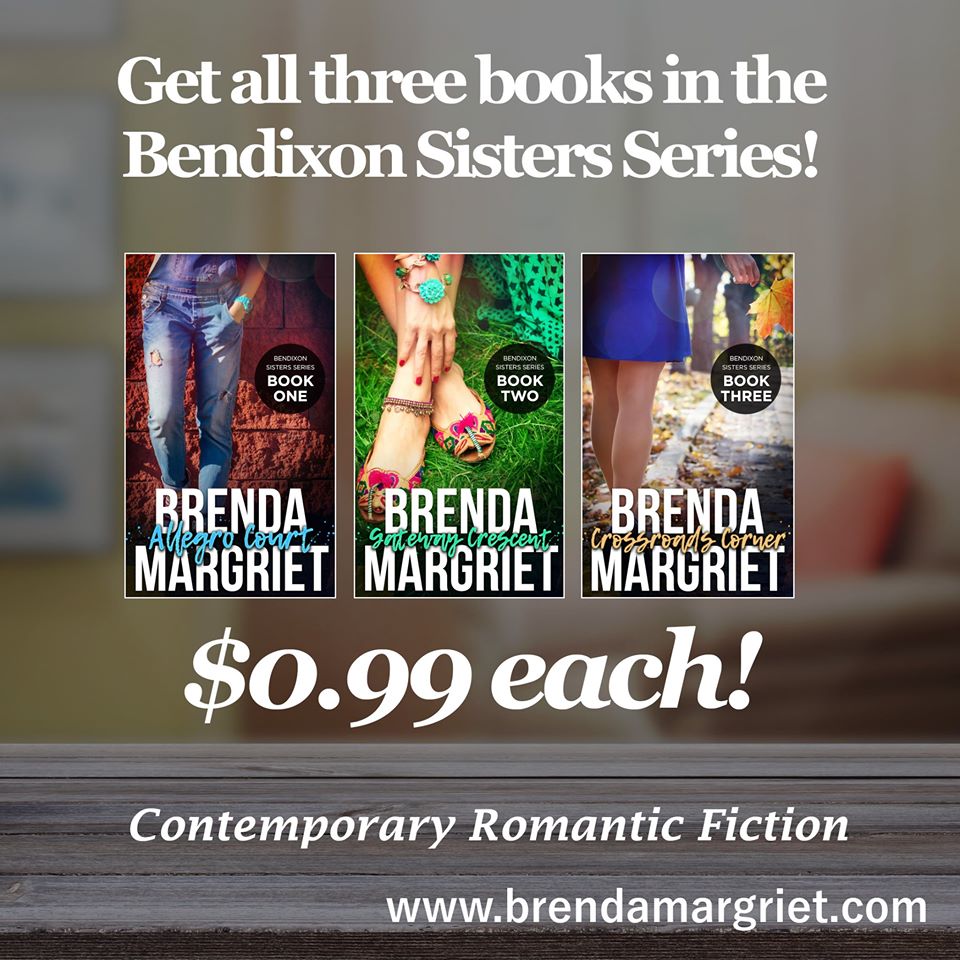 Don't miss your chance to grab the entire Bendixon Sisters Series on sale – each book is just 99 cents!

ALLEGRO COURT
Mattie thinks she sees a way to save Bendixon and Sons—if she can convince Marcus to stay in his hated hometown for one month. All she has to risk is her heart.
GATEWAY CRESCENT
Jo's heart will break when Luke leaves her, but how can a girl compete with God?
CROSSROADS CORNER
Camryn and Will are competing for construction bids and career-making contracts. But it is Camryn's battered heart that Will truly wants to win.

Amazon US link here https://www.amazon.com/Brenda-Margriet/e/B00AAPXIAY or just look for them on your favourite online retailer!