Romance Writers Weekly ~ Christmas Decor

Can You believe it's already December. I keep saying I'm going to find a way to slow time down, but here we are at the end of the year again and I don't know where the time went.
This week Dani Jace asked,  How do you decorate for the holidays? Do you have a theme? Show a picture of your favorite decoration and tell the history if it was handed down to you or something you made.
I love to decorate for the holidays. I have painted entire villages and nativity scenes, but that was in my crafting days. I haven't done my décor for this year, so here's some picks of years past. 
Hop back if you missed AJ Andersen Author Ajandersenauthor.wordpress.com
Keep on hopping to see what's on Clair Brett's tree And you won't want to miss Clair's new book Marked For Love out TODAY!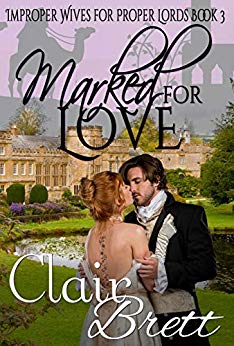 Captured by a warring tribe, Lady Giselle Braveton's tattoos forever mark her as a captive, now back in England she struggles to reclaim place in society. What gentleman will marry a lady who bears the marks of ruin for all to see?
Lord Maxwell (Max) Sutton wishes nothing more than to be left alone. "Proper" English society drove his sister to suicide, and he has no plan to join it again. However, every Lord needs an heir, and marriage to Lady Braveton might be the perfect solution to both of their problems, as surely, she will want to shun society as much as he.
Max soon finds marriage to Giselle is anything but convenient. She bears wounds he cannot heal and hides demons he cannot see. While he craves solitude, she longs to belong to the very society which mocks her. Maxwell can't bear to see another loved one suffer the cruelty of the ton, but he cannot leave Giselle to fend for herself. Can love carve a path to acceptance before old wounds and new enemies destroy it?