Romance Writer's Weekly ~ To Poem or Not To Poem…

Welcome back. This week
Jenna Da Sie
wants a poem. Here's what she said, Write a poem about summer ending. If you didn't hop over from
S. C. Mitchell's blog
, be sure to go around or hop back when you can. He's much more clever.
.
I am no poet. Poetry requires a certain gift and knowledge of rules, stanzas, iambic pentameter and whatnot. So those of you who know something of the craft, forgive me. I know not what I do. :/
.
The long days left behind
while the clock ticks down too short on time.
A cool breeze we never mind.
Now the trees settle in to rest
with leaves left to wither on the vine.
–
Another year goes by and by,
like that tree with brassy leafage on to end.
With wondering eyes and folly still,
to muddle through the foggy mend.
–
The bikini abandoned for none to see,
and this year of runway left behind.
I long for sappy green of spring,
when next we sing the old langsyne.
---
I know, I know, but it was the best I can do. 🙂 Thanks for stopping in.
.
---
Don't forget to pick up your copy of Desperate Bride. It's only one week old today. 😀
I think you're really going to love Thomas and Dory's story.
An unexpected promise . . . an everlasting passion.
.
An accomplished musician, Dorothea Flammel has refused more proposals than any London debutante; her only true love is her music. Dory's shimmering talent and beauty have long been adored from afar by Thomas Wheel, an untitled gentleman who can only dream of asking for the hand of a nobleman's daughter. But when her father, the insolvent Lord Flammel, arranges for Dory to marry a lecherous Earl in order to pay off a debt, she runs to Thomas—and proposes marriage to him.
. 
Eloping to Scotland saves Dory from a disastrous fate, but what is for her a mere marriage of convenience proves more passionate—and more complex—than either imagined as rumors, scandal, and buried emotions come to light. And when a vengeful challenge from a drunken and embittered Lord Flammel puts Thomas's life on the line, will the fragile trust between husband and wife be enough to save them both?
Buy Links
Amazon – https://www.amazon.com/Desperate-Bride-Forever-Brides-Fenichel-ebook/dp/B01MS3618J/ref=asap_bc?ie=UTF8
Barns & Noble – http://www.barnesandnoble.com/w/desperate-bride-as-fenichel/1125424536?ean=9781601839664
Kobo – https://www.kobo.com/us/en/ebook/desperate-bride
Google Play – https://play.google.com/store/books/details/A_S_Fenichel_Desperate_Bride?id=9nvRDQAAQBAJ
iBooks – https://itunes.apple.com/us/book/desperate-bride/id1196955489?mt=11
---
---
My Dear friend Gemma Brocato has a new book out today and it's on sale. Check out Hate!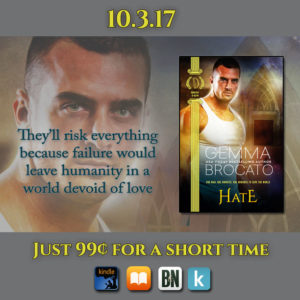 A wedding planner who's never experienced love, Aerie Thanos, the Muse of Romantic Love, is preparing for battle. Pierus, her opponent, is an ancient deity determined to unleash Hate on the unsuspecting world. Mortals' fates are sealed unless she gets help from an unlikely source, Detective Michael Finnegan. Finn has reason to be angry. His life has all the ingredients of a tragic love story. The pair must find a way to vanquish Hate. Aerie's determination and Finn's anger just might be enough to save humanity; if they could only learn to get along. Sparks fly and memories resurface while they risk it all to face their own personal demons.
One power crazed deity who'll stop at nothing to conquer the world. One goddess dedicated of love. One bitter man who resisted love his entire life. Until he meets the woman he'd die to spend eternity with.