Romance Writers Weekly ~ What to do with ONE MIL!

Back again my lovelies! It's time for a WHAT IF! This weeks blog topic comes from
Leslie Hachtel
– She asked, If someone handed you a million dollars, what would you do with it? (If you missed
S. C. Mitchell
you can always hop back.) BUT first…
So, What would I do with a million dollars? Hmmm…. For starters, I would keep our lake house in Texas and build our dream home in Missouri. I think that would be so wonderful. As it is now, we have to sell the TX house before we move.
.
But that wouldn't use up all the money. I make sure to keep some to care for my mother when and if she ever needs it. (Not sexy, but smart)
.
I would definitely give part of it to charity. My husband is a cancer survivor, so perhaps cancer research. The Jimmy V foundation does great work. If the money was in my hands today, I would send a lot more down to Houston. Of course, we did what we could, but with a lump of cash, we could do so much more.
.
If there was anything left over, I would take a trip to Europe. Ideally, It would be for a month and we'd go to Spain, Italy, the South of France and the UK. Though, I don't know if I could be without my fur babies for that long.
.
What would you do with a cool mil?
---
Missed something? Go back to the beginning with
J.J. Devine
And check out her books too! AWESOME!
.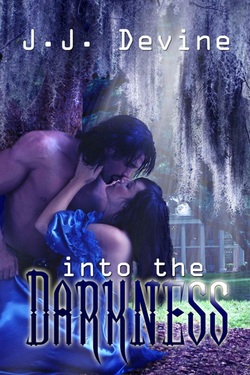 Vampires and Witches: are they mythical creatures or something that walks amongst us every day without our knowledge?
To Raven, a twenty-five year-old, extremely sheltered woman, they are nothing more than something to be read about in a book. To Dragon, an eight hundred-year-old vampire, they are a way of life.
Raven truly believes she is going mad. Erotic dreams fill her nights, causing her to question her sanity by the light of day. They lead her into a world she never knew existed and a heritage that can only be found in nightmares.
Dragon wants nothing more than to own the mortal soul of the beautiful Raven, a woman who can make his ancient scars disappear, proof that she is far from mortal.
Together they seek out the dark heritage of her past. What they find is much more than either of them bargained for. A destiny lies at her doorstep, one that could bring her salvation and an eternity at his side. Or, it could seal her fate and rip her from his world forever.
---
A Bookstore Gift Card and Autographed Desperate Bride Novel for the Lucky Winner of A.S. Fenichel's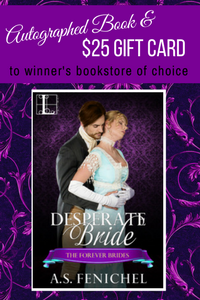 September Contest
.
A.S. Fenichel's September contest hits all the right notes. The fortunate winner will receive an autographed copy of Desperate Bride (Forever Brides, Book 3; On sale September 26, 2017), about Dorothea Flammel, whose one true love is music, and a $25 gift card to the winner's bookstore of choice. While shopping for new Fall reads, the winner might also want to pick up the first two books in Fenichel's Forever Brides series, including Foolish Bride and Tainted Bride. These enchanting Regency romances are sure to charm historical romance fans.
Enter to win!
.
An unexpected promise . . . an everlasting passion.
.
An accomplished musician, Dorothea Flammel has refused more proposals than any London debutante; her only true love is her music. Dory's shimmering talent and beauty have long been adored from afar by Thomas Wheel, an untitled gentleman who can only dream of asking for the hand of a nobleman's daughter. But when her father, the insolvent Lord Flammel, arranges for Dory to marry a lecherous Earl in order to pay off a debt, she runs to Thomas—and proposes marriage to him. Eloping to Scotland saves Dory from a disastrous fate, but what is for her a mere marriage of convenience proves more passionate—and more complex—than either imagined as rumors, scandal, and buried emotions come to light. And when a vengeful challenge from a drunken and embittered Lord Flammel puts Thomas's life on the line, will the fragile trust between husband and wife be enough to save them both?
Lyrical Press, On Sale: July 26, 2017, ISBN: 978-1601839695 ASIN: B01MS3618J
---

READ AND REVIEW GREAT BOOK!
---
This is a Party you don't want to miss. The guest list is amazing!!!!!