Romance Writers Weekly ~ Travel HOP!

This weeks topic come from Brenda Margriet – Let's go on a Travel Hop! Share the places and activities in the area around your home that you would recommend to someone visiting. Include photos and links so we can make future plans. Brenda Margriet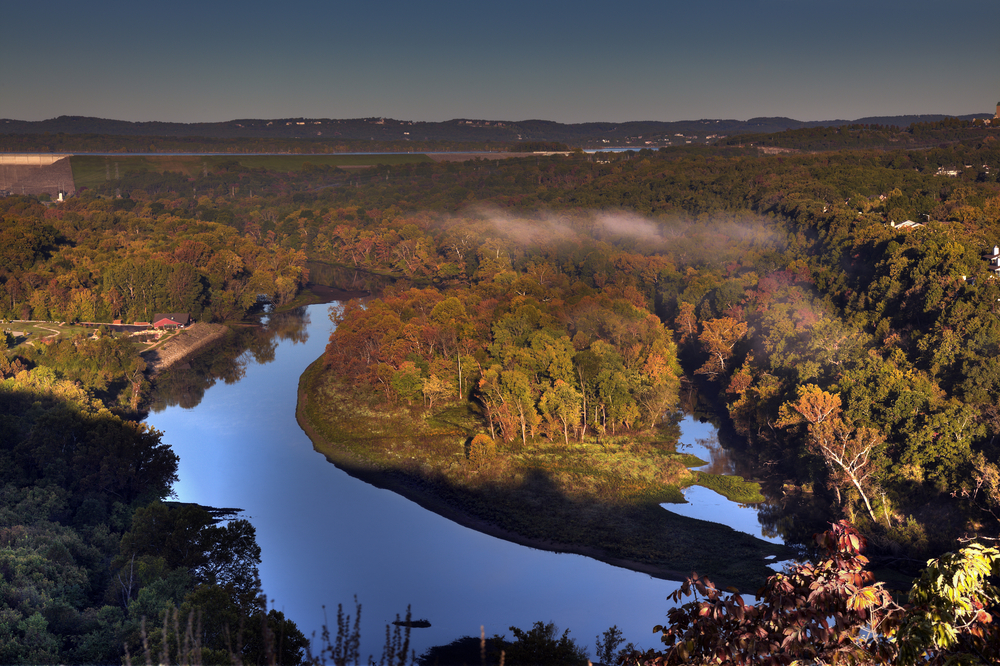 I live just outside of Branson, MO in the heart of the Ozarks. It's stunningly beautiful here with mountains and lakes. Once you've had your fill of swimming, boating, fishing vistas and all the fun things to do on the lake, you might give downtown a try or maybe visit Silver Dollar City, our theme park.
We are tucked into the south west corner of Missouri and enjoy the change of seaon with a shortened verson of winter and the occasional snowfall. Summers are hot, but not unbearable.
Now, it is a tourist area, but there are plenty of places to getaway from the crowds. We have the lovely city of Springfield when we want a night out for a good dinner and even dueling pianos. We even have a minor league baseball club where we love to go during non-pandemic times.
You can learn more about Branson's fun for the whole family here. If shows, water slides, bumper cars and the best custard (Andy's) and much much more is your thing, you will love it. And if you adore fine dining check out Level 2. You won't be sorry. Head down to the Landing for their fountain show and less lofty but just as delicious food. And if you outdoors calls to you, stop in Bass Pro Shop or rent some kayaks on Lake Tanycomo. It runs right past the Landing and is a fantastic trout fishery as well.
Enjoy a day of all the fun rides, food, shows in our mountain themed park. You can learn more about Silver Dollar City here. There's great shopping too. They have stall after stall of handmade crafts that will blow you away so leave room in your suitcase. Since reopening, they do require a reservation on certain days, so be sure to call ahead.
Love golf? We have some of the finest courses you'll find anywhere. The one at Top of the Rock has hosted the PGA tour. Big Cedar boasts 5 courses designed by some of the top names in golf: Tiger Woods, Jack Nicklaus, Arnold Palmer, Tom Watson, Gary Player, Tom Fazio, Bill Coore and Ben Crenshaw. Golf at Big Cedar is truly an experience you will never forget! And for goodness sake, don't miss the Sunday brunch at Top of the Rock. The food is amazing and the view spectacualar.
Really I can't think of any reason not to put the Ozarks on your bucket list. I love it here.
---
Hop back if you missed Leslie Hachtel http://lesliehachtelwriter.wordpress.com
---
More about Once Upon A Twelfth Night
The honor of your presence is requested by The Earl and Countess of Stapleton at their house party to celebrate TWELFTH NIGHT. Festivities include: a titillating masked ball, ice skating, a romp in the local village, a naughty treasure hunt, midnight kisses in the garden and the Twelfth Night Ball where holiday magic brings about seven perfect matches.
A Twelfth Night Wager by Christina Alexandra… After spending half her life in service, lady's companion Adelaide Shipley longs for a modest life of her own making. But a midnight wager with Win Maddox has her dreaming of more. Losing to the silver-tongued barrister would cost her everything, but winning could lead to her dreams coming true forever.
Ruination of a Rogue by Clair Brett… Will Lord Zander Milford find rumination an acceptable outcome if only at the hands of Miss Maria Lightowler?
It Was Only a Kiss by Sofie Darling… Snow falling, the Twelfth Night Ball, a stolen kiss—but no one would've expected bespectacled spinster Violet Hotchkiss to be the one stealing a kiss from Bumpstead Hollow's most eligible bachelor, Will Sinclair. And now that she's had a taste of passion, she refuses to settle for a life without romance, adventure…or Will.
Christmas Chase by A.S. Fenichel… Sarah Sommers has a plan—find the father who abandoned her and live happily ever after as his beloved daughter. Not even the handsome Lord Monty Witmore with his determination to deliver her to yet another guardian will stop her. Her heart, however, has other ideas about where the chase will end…
Twelve Nights of Ruin by Carrie Lomax… Holly Mayweather was the delight of London society–until her reputation was tarnished by a shocking scandal. Can the spirited beauty find happiness with William Sharp, a stoic former soldier? Or will their wedding vows end with "I don't"?
What If I Still Love You by Erica Taylor… After a failed elopement ten years earlier, Henry, Earl of Eddington, and Anna, the widowed Viscountess Newcroft, are reunited at his aunt's Twelfth Night party. As they search the castle for a box of letters left to Henry by his late father, can this star-crossed pair find their way back to each other? Or will fate intervene, again, and separate them for good?
Three Kisses Before Christmas by Tanya Wilde… Wolfstan Robert Ward, the Earl of Wicke and Selborne, lost his head for his best friend's sister the day he saved her from a frightful bully in their youth. There is just one problem. Rebecca is in love with another man—his cousin. Winning her would take every trick in the book, but