Romance Writers Weekly ~ Thanksgiving Recipe Swap

For the past couple of years, Romance Writers Weekly has done a recipe swap for Thanksgiving hop week. It's a lot of fun and so yummy. If you missed her, hop back for something yummy from Leslie Hachtel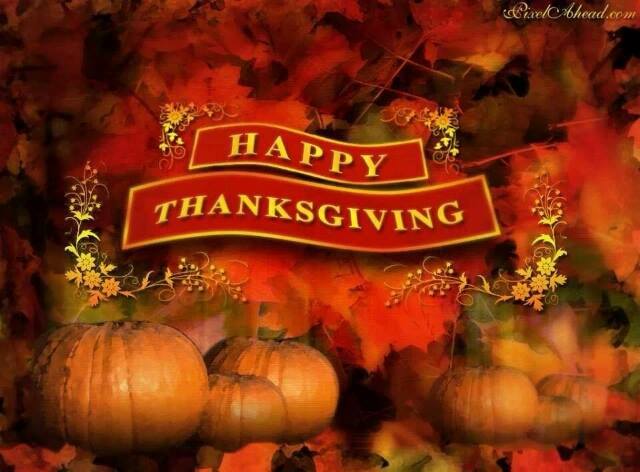 In our house we do a lot of Italian cooking. In fact, for our honeymoon we took a cooking class in Italy. This recipe didn't come from Italy. I actually made it up, but it's a great way to enjoy the taste of Thanksgiving and Italy all in one bit.
.
Pumpkin Risotto
Chicken Broth – 4 cups
Pumpkin Puree – 1 ½ cups
Olive Oil – 2 Tbls
Yellow Onion – ¼ cup chopped
Salt and pepper
Arborio Rice – 1 ½ cups
White Wine – ½ cup
Vanilla Bean – 1 cut in half the long way. (You can scrape the seeds or not)
Pecorino Romano Cheese – 1 cup grated
Parsley – 3 Tbls Chopped
Bacon – Cooked crisp and chopped
In a large sauce pan, add the chicken broth and Pumpkin puree and bring to a boil. Keep the broth at a slow rolling boil until ready to use it. In a pan with a heavy bottom, add oil, onion, salt and pepper (to taste). Sauté on Med/High heat until the onions are translucent. Add the rice to the pan and sauté for two minutes. Add the wine and cook another two or three minutes. Then add the vanilla (You will remove this at the end).
Your pan should be pretty hot. Keep the heat about medium. Turn off the heat on the broth and ladle about ½ cup into the rice. Keep stirring until the liquid is absorbed. Add another ladle of broth and stir until absorbed. Repeat this until the rice is at desired tenderness. It will probably take all the broth.
Turn off heat and add the cheese and parsley. Stir. Sprinkle the bacon on the top and serve hot.
.
Just for fun, here's an old picture of my mom, sister and me at thanksgiving in 1968, I'm the little one. Don't get upset about my mom with the cigarette, it was 1968. No one talked about second hand smoke back in the day. 🙂 Also, I couldn't find a single picture where she wasn't smoking. LOL She turned 80 last month.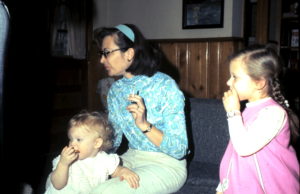 I know Brenda Margriet has something wonderful in store for you, so keep on hopping.
________________________________________________
My holiday books are all on sale for .99 cents right now. Need a sweet holiday historical or a hot contemporary? I've got just what you need.