Romance Writers Weekly ~ Flash Ficton

This week the lovely Brenda Margriet wants us to write Flash Fiction using Happy New Year, cigars, orchids.
Here Goes!
If one more person wished her a happy new year, she was going to scream.
Meghan sighed.
Of course, she wouldn't scream. It was the first week in January and she would hear it dozens of times before the month was out and people forgot there even was a new year. But, for her, there was nothing happy about it. She was alone. Her father was gone, her best friend had moved to Ohio to get married and that very morning her company had downsized and she had six weeks severance before total disaster.
"Are you lost?"
Meghan startled at the question and shaking herself out of her own thoughts she looked up into the most soulful brown eyes she'd ever seen. Set in possible the most handsome face on the planet. He was so good looking, she had to resist leaning in when she just wanted to see if he smelled as good as he looked.
"Um, no. I'm not lost. Why would you think I'm lost?" Normally on the streets of New York City, she would just say no and keep moving, but she didn't want to dismiss this man so soon. He might be a crazy man or a predator, but she didn't think so. Something in those eyes.
He smiled.
Meghan nearly crumpled to the cement in a puddle of goo.
She must have swayed because he touched her elbow just enough to steady her. "You were standing in the middle of Time Square with a blank look. I thought you might be looking for something."
"Just solutions to several problems." She laughed having no idea why she told him even that much.
His damned kissable lips pulled into a straight line. "I understand."
Impossible. But it was nice that he said it. "I'm sorry to have delayed you. You're probably in a hurry. Thanks for stopping to check on me."
Why was she dismissing this godlike creature? Maybe she was lost.
He shrugged. "Not a big hurry. I need to go find an orchid to bring my mother. I was just going to the shop around the corner for coffee then next door to the florist."
"Do you always tell strangers all your plans." It was unheard of in New York. In fact, just looking someone in the eye on the street could be dangerous.
His laugh was warm and round and shot her in the gut like a missel. "Of course not, but there was something about the way you looked standing there and you did tell me more than most people would divulge to a complete stranger. I'm Adam Price."
He was right, and she didn't mind freezing on the street a few minutes more just so she could speak to him. He was lovely and seemed kind and there was very little to go home to. So, she did something brave and stupid. "Meghan Scott."
There was that devastating smile again. "Would you like to have a cup of coffee with me, Meghan?"
"I shouldn't." She knew better than to get picked up on the street. It was dangerous. She could picture her father puffing on his cigar and lecturing her about living in the city and being safe by being smart. Adam Price looked nice, but lots of crazy people looked perfectly normal on the outside.
"He reached inside his Burberry overcoat and pulled out his wallet. It looked expensive as the soft leather opened and he handed her a gold embossed card. She took it. It said his name and the name of an upscale financial firm. Then he slid his driver's license out and showed it to her. "See, I'm just a normal guy going to have a cup of coffee. I'd like it if you'd join me."
"Why?" The New Yorker in her couldn't help herself.
He returned his license to the wallet and tucked it back into his coat. "I'm not sure, Meghan. You're very pretty. You look like you need a friend. I don't want to have coffee by myself. Pick one."
She did need a friend, but the idea that he could see that so clearly when he didn't know her from Eve, churned in her gut. "Just coffee."
He held up both hands. "On my honor. You're safe with me."
It was clear she had lost her mind because she walked with Adam around the corner and into the warm heavenly scents of a good coffee shop.
---
Hop back if you missed Jenna Da Sie
---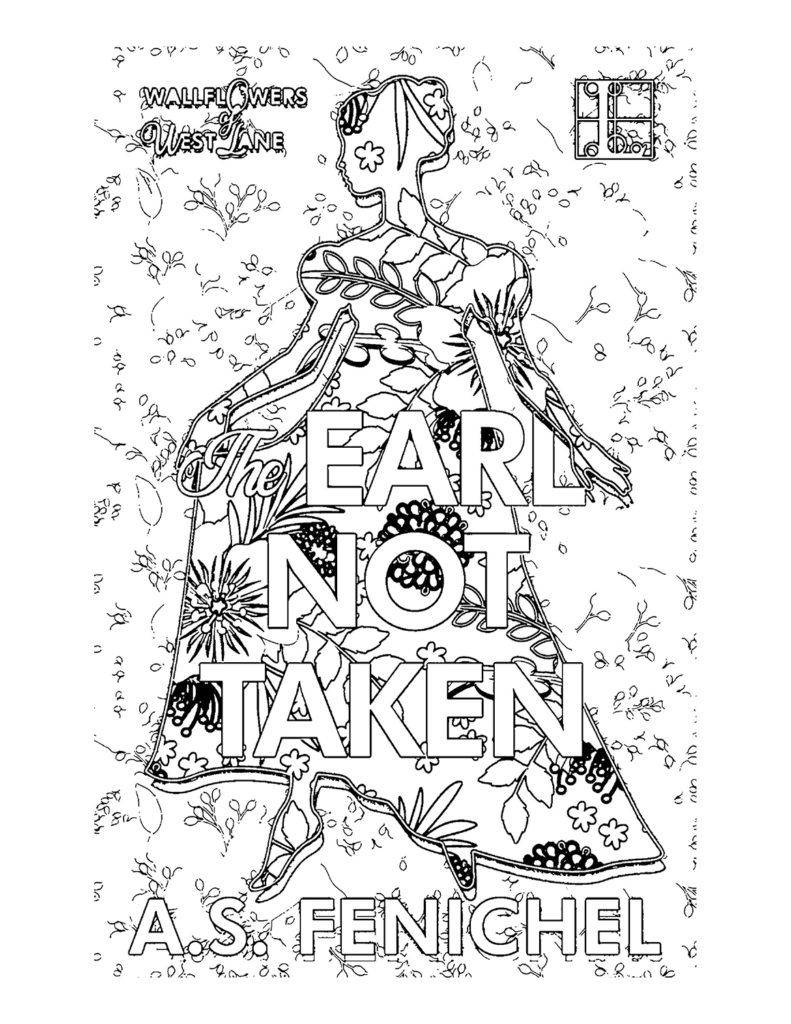 I have a new fun thing on my website. You can go to http://asfenichel.com/extras and find some of my covers ready to print and color.
I know this has been tough times for many of us and a little releaxing distraction might be just the thing.
I hope it helps and if you want to post the results I hope you'll tag me so I can see what you've created. @asfenichel